Evidence: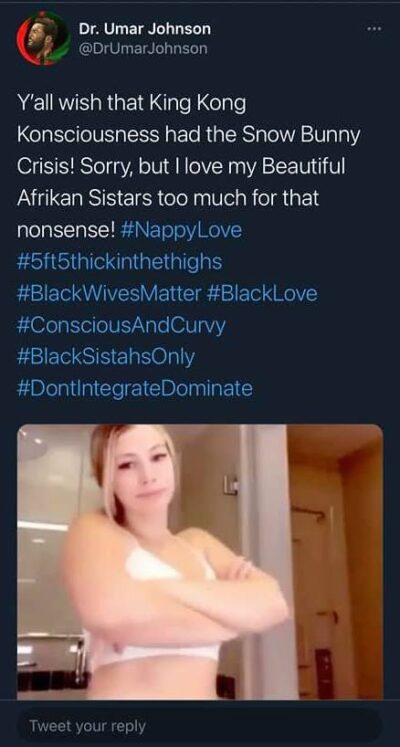 https://twitter.com/drumarjohnson/status/1349144836230803459
https://www.instagram.com/p/CJ9t9pkhhme/
Yep, that's right, spoken like a true dickhead and an original soggy milk-toast biscuit pro black male gerbilfaced simp, do you see how the formula works with these goofy communist pro black, red, black and green, back to the motherland pyramid heads, always seeking to give the modern day black female an out, a squeeze and a pass while at the same time relentlessly holding black men's feet to the fire.
This is one of if not the main reasons why black women continue to sink further and further into the gutter, because commutep, coke head, Pan African blue pilled simpletons like Dr Umar "Gerbilface" Johnson deliberately turn a blind eye to their wrongdoings and corruption.
This knucklehead simply doesn't want to understand the dynamics of how things actually work in the real world in comparison to the ideal fantasy that continually floats around in this dude's cranium. Here is a video that I've posted many times before demonstrating just some of the obstacles that productive young black men constantly find themselves running up against:
So, the black harriet admitted that she's been confronted by the "preppy boys" ie the so called "educated lame" black men who have their stuff together and they've asked her if hood Negroes are genuinely the guys they prefer to which she's responded "duh" ie of course the thug Negroes are the black men we prefer, why would you think otherwise?
The reality of the matter as discussed many times before is black women during their prime years want to get ran through, rinsed out and used up by Field Mouse, Sheggy, Breeze Bloc, 2 Snacks, Whippy and Cheddar Boy but then as they exit their prime years and they have 2,3,4,5,6 bastard children en tow, now in their older age they want to "get serious" and have the guys who they dismissed when they were younger "step up" and perform janitorial, clean up man, step father services.
Here is another dysfunctional chicken head singing about how she's looking for a real thug on the streets slinging real drugs:
Here is another video I recently featured featuring Tik Tok, YouTube and Instagram personality SwagBoyQ in which the wig wearing black female being interviewed once again confirms that she much prefers HOOD NEGROES:
Here is the link to an article I wrote just last month explaining why black male/black female relations are dead and can never be revived:
https://slayingevil.com/2021/08/09/it-just-cant-work-this-is-the-main-reason-why/
This is why I have no hesitation in calling communist slowteps such as dick police officer Dr Umar Johnson and those who think just like him dickheads, they honestly expect productive black men to be rejected by bottom of the barrel black females but at the same time still stick around waiting for them instead of logically opting to expand upon their dating options and look for love, sex and companionship elsewhere, smh.
The evidence is out here clearly demonstrating the fact that if your pants aren't sagging down to the ground, you don't have a set of gold grills in your mouth, your cap isn't to the back, you don't have tattoos and an extensive criminal record, your average black female simply won't be interested.
Once again, why waste your time trying to appeal to a group of women who aren't interested in you, isn't that the classic definition of a simp?
I fully respect the black female's decision when it comes down to the type of men she prefers to deal with, the problem I find is black women don't do the same when it comes to those same black men they've already rejected choosing to pick up their stuff and go elsewhere.
SYSBM, Passport Bros and their supporters as far as I can see are practically the only groups in black digital spaces currently holding it down and defending the heterosexual free thinking black man's right to choose the type of woman he wishes to get with regardless of race as well as defending his right to move around freely.
Obsidian wants to restore black male/black female relations, desiring for black men to reconcile, negotiate and horse trade with black women(even though in the past he's labelled black females as sexual marketplace socialists), Tommy Sotomayor is the same even though back in the day he preached the complete opposite(take your penis and go home). The homosexual Cool Whip Kevin Samuels has also stated that he wants to see black men united with black women.
This is all despite the fact that black women themselves have openly expressed their deep disdain and hatred for black men in general, that hatred especially generated towards heterosexual free thinking brothers, therefore the so called "black/nappy love, black wives matter, black sistas only movements are already dead in the water.
Additionally, with the issue of black women worshipping Captain Blizzard, you'll notice these pro black love court jesting minstrels always fail to address this. Black women chasing and pining after white men has nothing to do with black men dating out, black women have always lusted after Lord Euro and history has shown that they've been more than willing to carry out his dirty bidding.
There is no so called snow bunny crisis, what we have is simply a case of black women choosing to give the middle finger to heterosexual productive free thinking black men who logically in turn then choose to seek out love, sex and companionship elsewhere be it with white or other non black women.
Black women are the ones who are single handedly causing black men especially the younger generations to turn towards non black females and they only have themselves to blame for the exodus.
Black women out here tattooed up to the hilt like punk rockers and pirates, wearing weaves, wigs, fake eye lashes, thick layers of makeup and bonnets in the streets with no shame, most of these heifers have extreme masculine energy, are heavily overweight, can't cook, can't clean, despise black children and have no problems murdering them inside and outside of the womb, but after all of that I'm still supposed to form a confederacy with this black witch?
No thank you, I'm good, I'll pass. Communist hotep Umar "Gerbilface" Johnson as per usual can suck rocks, if he really wants to demonstrate himself being a blockhead and a numbskull every time the subject of interracial dating and marriage is raised then so be it, I'll have no problems lighting his backside up every time he says something out of pocket or attempts to stifle a black man's freedom of choice.
Let the degenerate and dysfunctional black community burn to a cinder, black women and their pro black simp cohorts can burn along with it. This has been an SYSBM public service announcement. #SYSBM
https://www.tiktok.com/@elisecancellare/video/6916192092247117062
https://www.tiktok.com/@elisecancellare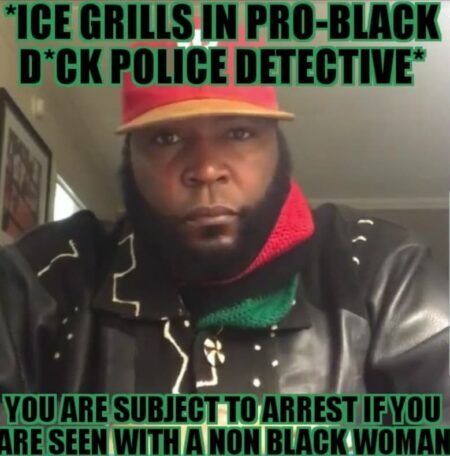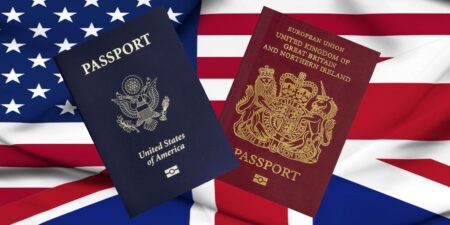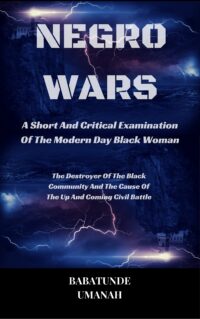 The Deprogramming And Decontamination Process Continues
Respect Yourself, Don't Appeal To Women Who Don't Want You To Begin With
Most High Bless