Evidence:
https://www.laymansjournal.com/post/christelyn-karazin-is-divorced
https://www.instagram.com/christelyn/
https://www.instagram.com/p/CRb8Tmehlqt/
https://www.amazon.com/Swirling-Relate-Mixing-Culture-Creed/dp/1451625855/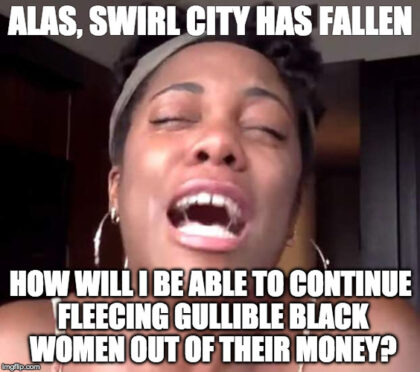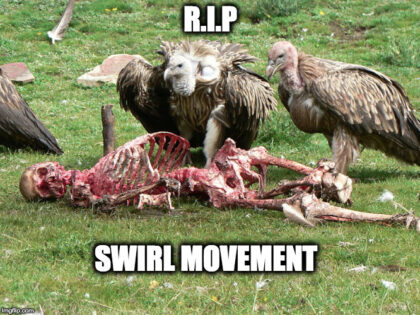 Thanks to commenter Ryan for alerting me to this development. I called out the so called swirl movement as being a dead duck on arrival more than 5 years ago and now it turns out that the high priestess of Swirl Mountain, one Miss Christelyn Karazin has now divorced her white lord and saviour Michael Karazin, are we really surprised?
The fact of the matter is black women will always remain the primary problem no matter what race of men they choose to deal with because time after time they fail to self examine, self scrutinise and thereafter implement self improvements.
Black women as a collective are renowned for choosing to deal with the lowest dregs of black male society, getting shafted and afterwards blaming black men as a group for the resulting fallout including the productive black men who they deliberately scoffed at, smh.
If you as a black female choose to deal with dickheads, don't expect miracles to manifest themselves ie don't be foolish enough to believe that the relationships will be successful because THEY WON'T BE.
This is pretty much the history of the founder of the swirl movement Christelyn Karazin in a nutshell, messed around with a Slim Sauce type Negro back in the day, got impregnated by him(in typical black female fashion), the dude kicked out leaving her to raise her daughter Kayla alone(which she hasn't done a very good job of because a few years ago her daughter came out as a mentally disjointed lesbian, don't take my word for it, check out her instagram page):
https://www.instagram.com/stormieboi/
Knowing how black women operate, we already have a good idea as to what went wrong with her eldest, as soon as Karazin began bringing forth those mixed race children, she pretty much kicked her black daughter to the kerb and left her to her own devices, remember, black women HATE black children but worship and adore white and mixed ones.
Karazin's daughter Kayla is a living example as to why any black man with sense and intelligence must NEVER impregnate one of these creatures. Remember, Christelyn Karazin is the same dirty buzzard who alongside the gutter dwelling specimen known as Kendall St Charles aka Breukelen Bleu advocates for black women to assassinate unborn black boys in the womb, in other words give birth to girls only.
Since the launch of her book Swirling back in May 2012, Karazin had been attempting to present herself as a pious, humble, concerned black woman who claimed to be looking out for the best interests of black female society regarding dating and marriage, yet her own flesh and blood Kayla Karazin she staunchly rejected and rebuffed in favour of her mixed race seedlings, what kind of a reprobate, degenerate mindset is that?
Don't be surprised, this is the common mentality of your typical black siren, remember her daughter Kayla reminds Karazin of her blackness(something which most black women hate and try their utmost to distance themselves from), additionally Kayla also reminds Karazin of the black male bum she got knocked up by, thus every time she looked at her daughter, she was confronted with her own gross failure in choosing the wrong type of black man to get pregnant by(something which most black women have professional expertise in).
This is all too common in black female society, black women failing to supply their children with love, attention, emotional support as well as a good father and as a result those same children willingly seek out affection, attention, love and support from other places, many of which are not healthy at all.
The first red flag behind Karazin's so called "swirl movement" was the fact that her then husband Michael would never appear in any of her videos and in the very few that he did make a cameo appearance, she'd never show his face on camera.
Further troubles would arrive in the form of a white male ex YouTuber who went by the name of The Vegainator, when interviewed by Karazin back in 2016 he stated that he did NOT swirl and he also went on to confirm what black men has been stating for the longest, that black women are the white man's very last choice when it comes down to dating and marriage.
Of course Karazin and her swirling mutley crew of cohorts didn't appreciate being told the truth and they made sure to go after the Vegainator with maximum venom and hatred the likes of which any white man had never seen before from a black female.
In light of such a crushing blow to her swirl movement, Karazin even attempted to put on a waterworks bread and circus monkey show in her efforts to stem the heavy flow of blood and was rapidly draining from her philosophy day by day, I'm sure everybody remembers the infamous video from 5 years ago of Karazin pretending to have an emotional breakdown:
These so called swirlers and divestment agents don't seem to understand that white men as a collective don't see them as valuable women, in the overwhelming majority of cases they view them as a means to offload some semen, nothing more: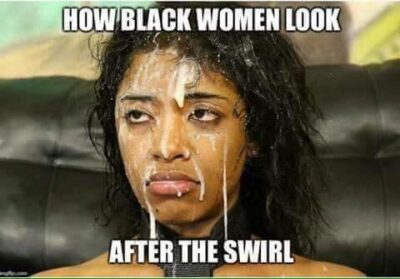 Here is a video that was sent to me by King Sigma which yet again confirms how white men view black women, as semen guzzlers and creatures to enact their outlandish fetishes on. In 2021 very few if any white men will take black women seriously, especially in light of the negative way that black women choose to conduct themselves:
https://www.tiktok.com/@samarah691/video/6998262236330462469?
Yep, yet another masculine looking, weave wearing black harriet torn up because Admiral Frost used her as a cum dumpster, her claims of abuse I'll take with a pinch of salt because we already know how many black women are deeply into race play and love offering themselves up as sex slaves to white men.
We see the scam loud and clear, as long as you're involved in a relationship with General Blizzard, actions that women of other ethnicities would have no problems labelling as abusive, these black sirens find no fault with, however as soon as Captain Euro grows tired of the black heifer and kicks her to the kerb to seek out fresher pastures, all of a sudden what was more than acceptable behaviour before now becomes abuse, get outta here with that garbage.
Swirling, divestment, levelling up etc are 3 sides of the same fraudulent and delusional triangle, exactly who else is interested in black women en masse for them to "divest" or "level up" with, I'll wait?
In landing herself a new guy, all Karazin has done is transfer her defective beyond repair self from one white man to the next, she's still a broken beyond repair black female regardless of who she manages to date, those same defections will manifest themselves eventually, the current dude in like manner will kick out and she'll be back to square one looking for another Major Sleet.
I've stated this many times in the past, so called swirling is on an extremely severe decline simply because black women have no pride in their image and reputation, after all why would your average white guy who has the choice of some of the best women on the planet settle for badly behaved, violent, masculine looking, weave, fake nails and fake eye lash wearing Becky wannabes?
Finally, notice how the crying black female has a wrap on her head, do you see how she's already lining up the pro black Texas Two Step to run on some knuckleheaded simps who will be more than happy to welcome her back into the fold? The Swirl movement is officially dead, meanwhile SYSBM continues to explode and move forward in leaps and bounds. #SYSBM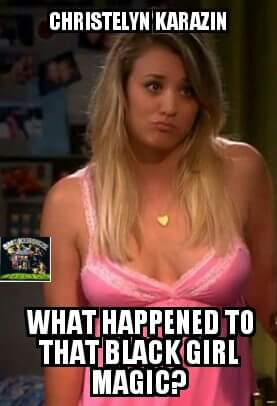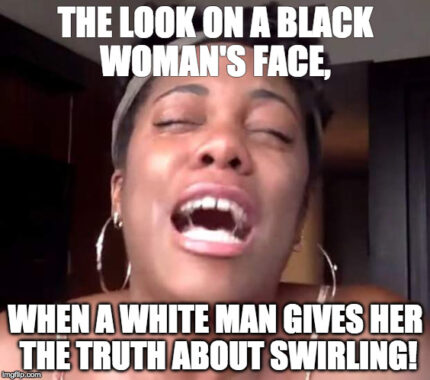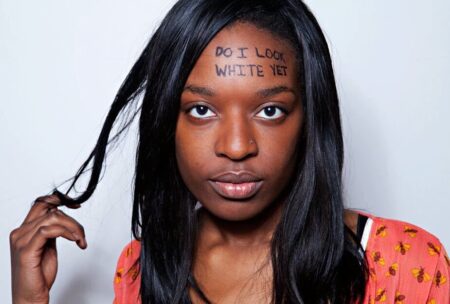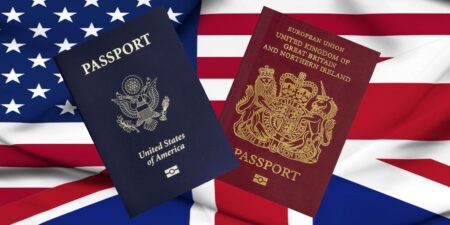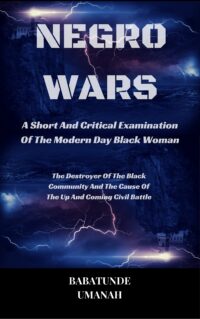 The Deprogramming And Decontamination Process Continues
The Swirl Movement Is Officially Dead, SYSBM Keeps On Rising Higher
Most High Bless