Evidence:
https://www.tiktok.com/@roddysmithsmurkd/video/7135160884103580971/
https://www.tiktok.com/@roddysmithsmurkd/
So let me get this straight, we're broke yet we can afford to travel internationally?? Make that make sense. Feel free to check out this guy's TikTok channel, you'll see for yourselves it's obvious he's 12 kegs short of a 6 pack.
As per usual these blue pilled, passport scoffing black male simps without fail always seek to absolve black women of any responsibility, in typical black female fashion, it's always the black man's fault. Feel free to deal with this dude's lame arguments, I personally won't be bothering because they're so weak, easily debunked and deconstructed.
The average garden variety black male simp is the main reason why black female society will continue to sink deeper into the mire, as long as he remains a gatekeeper for black female dysfunction, black women as a collective will never improve and will forever remain chronically single at an ultra high clip.
Many of these guys have never left their own local area yet alone travelled outside of the US, but when it comes to travelling and foreign women, all of a sudden they become "experts" on said females, what they want, how they think and what they'll expect from American black men, you cannot make this stuff up.
Simps such as the above will conjure up and rattle off any garbage in their efforts to get free thinking black men to settle for low quality women who at this point are only fit for the trash heap, never allow yourselves to be gaslighted by these fools and fall for the Okey Doke.
https://www.tiktok.com/@ultimateblackmanradio/video/7135522101758561582/
Why is this Negro so pressed about where other black men are choosing to place their family jewels? Additionally, does this guy look like he's getting any cooch? I've noticed a trend of black women and their blue pilled, black male simp flunkies attempting to shame black men with passports concerning access to sex.
Sex is a fundamental part of a man's life, if he's unable to access sex in one region then logically he'll venture elsewhere in order to meet the need. I really have to look at these idiots sideways who attempt to shame men for wanting easy and regular access to sex, they're acting as if sex is for emergency uses only or for very special occasions.
It should also be added that true SYSBM practitioners are not "tricks", our objectives are always long term based, find a high quality woman who we can have children with in order to keep our family tree and legacy in continuance.
We subscribe to traditional family values, not like this leftist tugboat who no doubt believes that he's giving black women some sort of "inside scoop", smh. Take 20 seats bruh, none of the black women you're licking the muddy boots of are checking for your goofy looking backside.
https://www.tiktok.com/@burbnbougie/video/7135452393440873770/
I have an even better question, why is this disingenuous black siren pretending to be concerned about foreign women? Since she wants to talk about Captain Euro, where were her protests before this "black men getting their passports and travelling overseas" issue came to the forefront? Haven't white men been travelling overseas for sex longer than black men, why hasn't she protested them?
Notice that whenever black men place themselves in a position to be happy WITHOUT the black witch being in control of said happiness, all of a sudden the activities the same black men are choosing to engage in are "a problem". I keep on telling you black men, these modern day black females wants you to be miserable so badly just like they are, they hate seeing you break out of their feminist spell, being happy, content as well as standing in your own masculine authority.
At the end of the day women control access to sex, therefore if any woman doesn't want to have sex then outside of the exception of rape, it isn't going to happen. Take your tatted up, tea drinking behind back to the dark, damp and musty catacomb you climbed out from woman, stop pretending to be concerned about foreign women, we don't believe you, you need more people.
https://www.youtube.com/shorts/aKqu6oBh4aM/
First of all, no decent quality foreign women are checking for gold grill wearing, Slim Sauce type Negroes anyway. You'll notice how by default the passport scoffers always conveniently jump to the faulty assumption that all women in foreign countries are snakes who are looking for a come up ie a green card as well as access to a Westerner's money.
Now, I'd be an ignorant fool to state that there aren't women in foreign lands who are indeed seeking to take advantage of a Western man's elevated status, however believe it or not most foreign women DON'T want to leave their respective countries for Western shores.
They much prefer to remain in their own countries and in like manner many are looking for genuine love and companionship. Notice how these guys who don't have passports and who don't travel all of a sudden are clairvoyants, they know exactly how these foreign women think despite having little to no interactions with them on their own soil.
So let me get this straight, I'm supposed to listen to 12 Gauge Mike, Field Mouse, Lil Cheezy, Roof Top Trey, Shorty Fist and Trap House Jim over accepting my own personal boots on the ground, first hand experiences as principle testimony, get outta here with that garbage. Again, it's insulting how these sloppy Joe Negroes talk as if you're a child who doesn't know the lay of the land ie how to tread cautiously.
An element that is often omitted is the fact that non Westernised foreign women overall are cleaner women, they're not like these dirty, contaminated creatures of the West, therefore on that principle alone it's understandable why some black men much prefer foreign women over their Western female counterparts. Not every black man is content dealing with dirty women, some of us actually have standards in place.
https://www.tiktok.com/@jillian.kayy/video/7033425408943066374/
Check out the comment section of the above video, of all the black women who commented I didn't come across one commenter who was discouraging this woman from travelling, on the contrary, they encouraged her to travel even more and additionally many were suggesting new destinations she could visit.
Yet these same deceitful buzzards will turn around and tell black men that they're lames for getting passports and going overseas. Do you see how they have one set of rules for themselves and a completely different arrangement for black men?
We already know that black women are travelling internationally at a higher volume than black men, we also know that black women are visiting foreign lands to get their cheeks clamped by foreign men yet none of these passport scoffing savages have anything to say concerning their queenies and their dodgy antics, smh.
It's beyond amazing how easily some black men can be suckered, bamboozled and hoodwinked into hating on other brothers who choose to get their passports and travel, yet at the same time these black sirens in the background who are organising and coordinating these passport hating campaigns are openly catching flights heading to foreign lands to which their blue pilled, pro black simp flunkies have nothing to say, smh.
Gentlemen, get those passports, don't listen to these knuckleheaded black men attempting to use every shaming tactic in the book in their efforts to dissuade you from getting your passport and travelling on behalf of their black female overlords.
This relentless hatred of US black men who own passports is strange and extremely disturbing speaking as a black man from the United Kingdom. Over here owning a passport is a normal and standard practice and travelling the world is greatly encouraged.
In fact if you don't own a passport you'll be lining yourself up to get a serious grilling from your peers. Always remember fellas, certain "individuals" have a vested interest in black men remaining on the plantation as simps/clean up men/janitors, more brothers saying enough is enough and demanding CLEANER WOMEN has put a huge spanner in the works of those "merchants".
As for the dating coaches and PUAs who've also decided to jump on the passport scoffing bandwagon, the dating game grift is done for you, find a new profession, Whole Foods is hiring.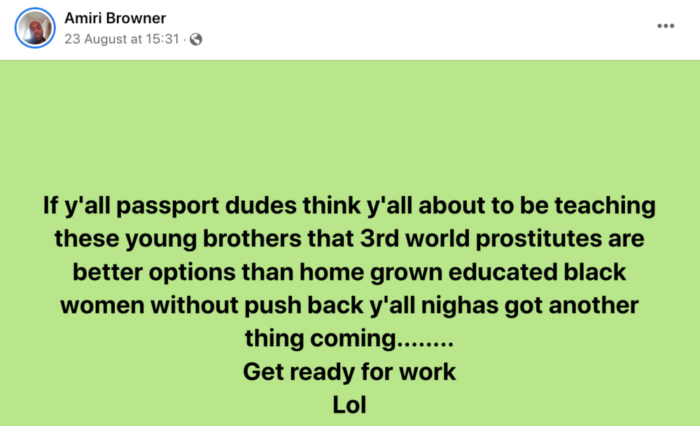 https://www.facebook.com/amiri.browner/
I remember debating the male feminist, pro black female, black women first, blue pilled flunky Amiri Brown over two years ago on TPOT's channel, that debate can be seen below for anybody who's interested:
First of all, emulating the modern day black female and leading off with so called "education" is a dead horse on arrival, we already know that educated women are the worst to get involved in relationships with. Additionally, despite the black female's so called "education", she's still a knucklehead and a dunce due to her prolific habit of getting impregnated by Slim Sauce, Field Mouse, 12 Gauge Mike, Roof Top Trey, Spoony and Sheggy.
Again, as with pro black muddy bootlickers such as D Derell, notice the raw ignorance of the above statement.
So, a man can't find a decent woman abroad who isn't a street walker, really bruh? Remember, these are the same passport scoffing Negroes who purport to hold some level of intelligence. According to these guys who don't travel, all women abroad are prostitutes, evil schemers or both. Indeed, this is an insulting and nonsensical thought process and foreign women have the right to be angry and offended by such ignorant inferences.
It's always these non passport holding, non travelling shine buckets who typically have the biggest mouths piping off about things they know nothing about. Outside of blue pilled simps, black men of quality aren't checking for black women nor do they see value in them.
Brown can launch whatever counter campaigns he wants on behalf of the least married and least desired women on the planet, however the younger bucks have already spoken, they're checking out of dealing with black women at record rates and no black female dysfunction gatekeepers are going to persuade them otherwise.
If I'm correct Amiri Brown is married to a daggle, this would explain his feminine thought process and why he fails to understand the real dynamics of black female worth and value. Any non black women by default are of higher value than these weave, fake eyelashes, fake nail, heavy makeup wearing, tatted up black sirens, this is simply an inconvenient truth that feminine minded simps like Brown are having an extremely difficult time digesting.
Gentlemen, these blue pilled simps out here are shook, they've been given the task of rounding up those black men who have chosen freedom over being in bondage to the ungrateful black witch and so far their progress has been absolutely abysmal. The exodus is very real and cannot be stopped.
Finally, as I've stated before, white men have been getting their passports and travelling for a very, very long time and not one of their peers has criticised them for doing so, however as soon as US black men in larger numbers decide to engage in the same, all of a sudden black women and their pro black simp cronies decide emergency meetings are necessary and passport strike force committees immediately must be formed in order to "deal with the problem", smh. #SYSBM™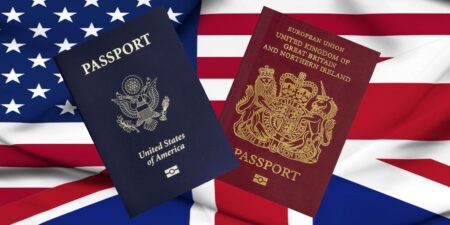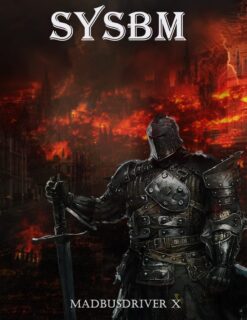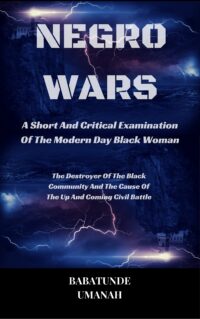 The Deprogramming And Decontamination Process Continues
Get Your Passport, Travel And See The World Like Other Normal People Do
Most High Bless