Evidence:
https://www.instagram.com/p/CPdqpiSh-TZ/
https://sandrarose.com/2021/06/monique-criticizes-black-women-for-wearing-bonnets-in-public-their-sons-respond-by-wearing-bonnets-too/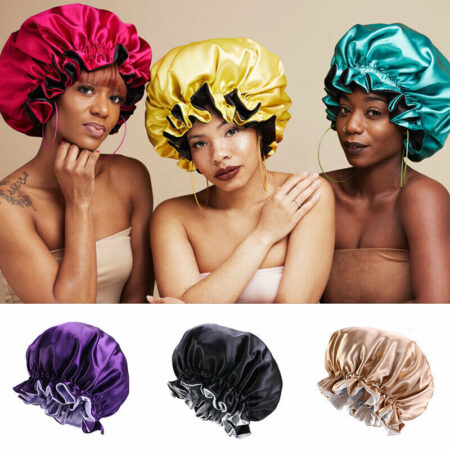 This reminds me of what Shahrazad Ali tried to do back in the late 80s and early 90s, simply advise black women to clean up their image and reputation and we already know how black females responded to her.
Yet again here we have an elder black woman in the form of US black female comedian and actress Monique Angela Hicks aka Mo'Nique telling black women that wearing certain attire out in public is NOT a good look for their image and reputation, however this time in the 21st century it has been a mountain load of effeminate simps(not black women themselves) who have come out railing against sound advice that makes perfect sense and is more that reasonable.
I believe this was the mullet headed, lotionised, emasculated Negro who first kicked off the "support black women wearing bonnets in public" trend on Twitter sporting a head scarf: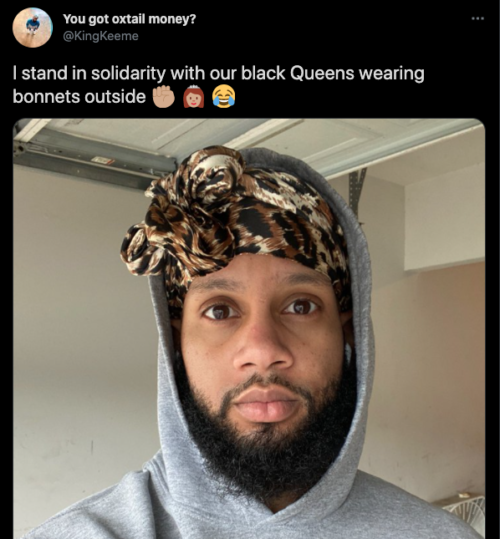 https://twitter.com/KingKeeme/status/1399419699423756289
Just check out the thread and you'll see a slew of effeminate black men wearing bonnets in solidarity of their "black queens", yes the same ones who will not hesitate to use their cars to run them over in the street. Yep, the same lame black women who are constantly shouting from the rooftops "n***as ain't s**t", yes those black women.
Most black men are done and they fully deserve the horrid fate that is trundling towards them as a result of their blind devotion to a group of women who positively hate their guts and wouldn't urinate or defecate on them if they were on fire.
Of course black women in the comment thread are loving this, those particular black men being the useful idiots that they are voluntarily emasculating themselves by wearing female attire upon their heads, this latest trend on black Twitter illustrates what a smack up job the modern day black female has done fragging and destroying the minds of black men over the past 60 years.
Wearing a bonnet, what exactly is masculine about this practice? Where are the black women in the comment section telling black men that they shouldn't be demonstrating support via the emasculation of themselves, nowhere to be found. There are a few black men in the thread who get it, however sadly not many.
Study that comment thread hard, as we always are pointing out here at Slaying Evil, these effeminised, blue pilled, bonnet wearing ultra simps are the reason why black women will continue to flow deeper and deeper into the gutter of degradation, filth, degeneracy and reprobation.
This is also one of the main reasons why any efforts to restore and rebuild black communities without first bringing the black female back into line are immediately wasted and dead on arrival. Most black men have been indoctrinated, programmed and trained well to defend this black female regardless of her condition.
This bonnet foolishness reminds me of the emasculating Walk A Mile In Her Shoes campaign I highlighted a few years ago which has been running since 2001. So called men deciding to wear women shoes and walking 1 mile or more honestly believing that they're supporting women and their causes when in actual fact they're simply being effeminised on the slick.
There are plenty of ways of dealing with LEGITIMATE issues relating to women without men having to resort to emasculating and effeminising themselves. As a man whether literally or figuratively, you NEVER put yourself in a woman's shoes, NEVER!
Mo'nique just like Ali proved that black women as a group enjoy living like sewer dwelling tramps and vagabonds, they DON'T have any pride in connection with the way they look and act in public and they despise anybody who attempts to hold them to account and bring some reasonable standards to the table.
Again, take a look at these dumb dudes, they look so weak, stupid and have no idea that black women will despise them even more for doing this. Standing in solidarity with a group of women who have no problems stabbing you in the back and do so on the daily, what kind of crazy foolishness is that?
It makes sense now why so many of these dudes are championing for and rallying around the homosexual Kevin Samuels. Free thinking black men, the message remains the same, don't be like lotion boy King Keeme and the rest of those knuckleheads compromising their masculinity and manhood, especially not for gutter trash females.
You were right to walk away from Jiffy Pop bag wearing black women and the simps that unconditionally worship them, just observe how mentally damaged both groups are.
Don't be a Simon Says breeze block like these ignorant maggles, NEVER emasculate yourself and compromise your manhood and masculinity. This is yet another case demonstrating why at this point SYSBM is an obligatory strategy for the heterosexual free thinking black man, it is no longer optional. #SYSBM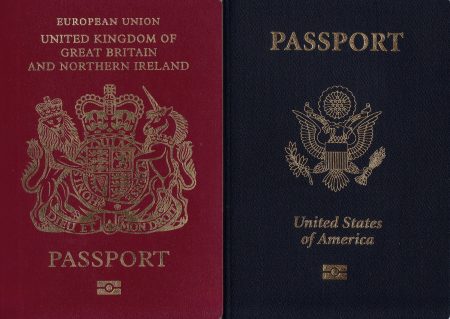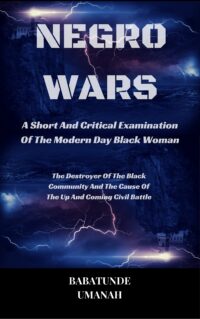 The Deprogramming And Decontamination Process Continues
The Black Community Is Done, Walk Away And Never Look Back
Most High Bless