Evidence:
https://www.dailypostusa.com/news/dmx-received-covid-vaccine-days-before-heart-attack-family-says-no-drugs-exclusive/
https://mtonews.com/dmx-received-covid-vaccine-days-before-heart-attack-family-says-no-drugs-exclusive
https://www.naturalnews.com/2021-04-03-vermont-only-people-color-jabbed-covid19.html
https://www.naturalnews.com/2021-01-23-hank-aaron-dies-after-coronavirus-vaccine.html
https://www.infowars.com/posts/breaking-marvelous-marvin-hagler-executed-by-covid-19-vaccine/
https://www.naturalnews.com/2021-03-23-cdc-ignores-deaths-injuries-after-covid-vaccines.html
https://www.naturalnews.com/2021-04-01-astrazeneca-changes-name-of-its-coronavirus-vaccine.html
https://www.naturalnews.com/2021-04-02-man-skin-peeling-off-johnson-covid-vaccine.html
https://www.naturalnews.com/2021-02-24-uk-government-reports-deaths-after-coronavirus-vaccination.html
https://www.naturalnews.com/2021-04-02-berlin-limiting-use-astrazeneca-vaccine-blood-clot-deaths.html
https://childrenshealthdefense.org/defender/johnson-johnson-vaccine-clinics-hit-pause/
At this point we're going to have to accept the fact that the mainstream media will never tell you the truth on anything and that any and all deaths relating to the Covid bioweapon they'll immediately scramble to cover up by attributing the cause of death to something completely different.
It's funny, currently here in the UK if an individual dies and they've had a covid test within 28 days of that death, that same individual is marked down as having passed from Covid-19 even if the test came back NEGATIVE, however whenever somebody dies within a short space of time after having received their bioweapon shot, the so called "vaccine" is never to blame for the cause of death, how does that work?
I'm not really a fan of MTO News, however seeing how the mainstream media has already attempted to spin the deaths of Hank Aaron as well as Marvin Hagler away from the vaccine, I strongly believe the lamestream press are running the same playbook with the death of DMX aka Earl Simmons using his past drug abuse history as a weapon to bury the real cause of his death, the Covid jab. DMX did indeed suffer a heart attack, however drugs were NOT the cause.
Commenters JW and Black Picard also alerted me to an attorney and legal analyst for CNN and MSNBC, a 47 year old black female by the name of Midwin Charles who also recently hit the grave after getting her Covid bioweapon over a month ago, here is the tweet she put out on March 1st 2021 confirming that she had indeed received the poison: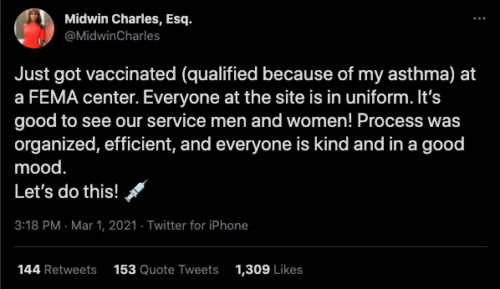 https://mobile.twitter.com/MidwinCharles/status/1366407547243155460
https://www.dailymail.co.uk/news/article-9449987/Midwin-Charles-posted-not-feeling-Instagram-3-WEEKS-died.html
Unfortunately, Midwin Charles foolishly encouraged her own mother to get the death shot which she even stated took weeks of persuading, smh. Her mother should've known better and stuck to her own instincts: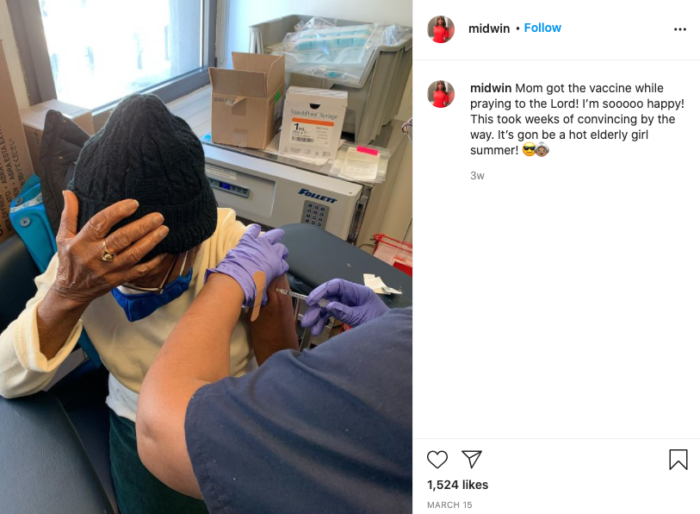 https://www.instagram.com/p/CMccB5WFvrQ/
Remember the intensive care nurse from CHI Memorial Hospital in Chattanooga named Tiffany Dover who back in December 2020 took the shot live on air and fainted some minutes later, she still hasn't been seen or heard from even though the mainstream media "fact checkers" got straight to work trying to cover for her prolonged disappearance after people began asking questions as to where she was a few weeks after.
Don't take my word for it, search engine for yourselves "Tiffany Dover dead" and the results will be littered with mainstream media "fact checking" articles, however they're wasting their time because she would regularly post pictures of herself and her children on her Instagram page, the last of which was posted on the 14th December 2020.
4 months later and still no sign of the woman, the conclusion is obvious and staring us in the face, Tiffany Dover is dead and it was the bioweapon disguised as a vaccine that took her out.
At some point we have to stop playing these silly mainstream media games and simply call things out for what and how they really are, we clearly see that many people are dying from taking these Covid bioweapons regardless of the manufacturer, we also know that the Eugenicists Bill and Melinda Gates are the main individuals sponsoring these worldwide Covid "vaccine programs".
Unfortunately, there are still too many people who just don't know who Bill Gates really is and as a result aren't taking the dangers of these experimental so called "vaccines" seriously at all, all they know about Gates is Microsoft and Windows, they don't have a clue about his malevolent and shady past and present. For those who wish to be brought up to speed, please see this lengthy article in the link below:
https://childrenshealthdefense.org/defender/bill-gates-neo-feudalism-farmer-bill/
Back to Earl Simmons. The thing I liked about DMX is he came into hiphop and brought a fresh injection of masculinity with him(the way the music used to be in the 80s and 90s) at a time where an agenda had been initiated to softened and feminise the genre, in fact, towards the end of DMX exiting the public hiphop arena, he began calling out the overt effeminisation as well as the rampant homosexuality being pushed in the music industry, his track Where The Hood At encapsulated these sentiments perfectly:
It's not like today where hiphop has been saturated and marinated with these emasculated, single mother raised mumble rappers wearing tight jeans(which they also sag) that practically resemble leggings, DMX was all masculine and masculinity is all you thought about when listening to his music and watching his videos.
Yes, his past drug problem was an issue which didn't really help his overall situation, however as I stated earlier drugs did NOT cause his heart to fail, from what his family have stated, he had been clean for quite a while up until his untimely death.
Outside of heavy witchcraft and deep hypnosis I really cannot understand how so many people have been successfully hoodwinked into taking an experimental jab for a virus that even according to the official numbers has a mortality rate of something like 0.0002%, has a survival rate of 99.98% for people ages 20-49 and where 80% of the people who catch the virus have NO SYMPTOMS: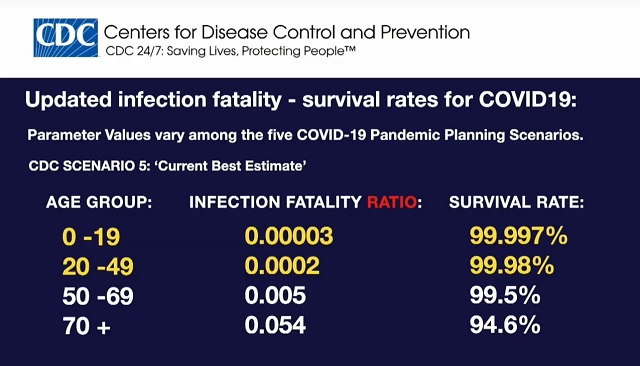 In fact from what I now understand, this so called Coronavirus is soon to be downgraded to the level of a common cold. I've NEVER taken a vaccine for the common cold or the flu, I've always mixed ginger, honey, lime in hot water which has always brought fast relief, however vitamin D supplementation ultimately is the best solution in keeping colds and flus at bay.
Outside of regular sun exposure, I've been taking thousands of IUs of vitamin D daily for years now and I haven't had a cold or the flu in a very very long time. Vitamin D is such an effective tool against colds and flus that the FDA has written to Dr Joseph Mercola and told him to stop writing about it. Additionally, the UK government has also shut down any vitamin D recommendations for Covid, hmmm:
https://articles.mercola.com/sites/articles/archive/2021/03/15/fda-warns-dr-mercola-to-stop-writing-about-vitamin-d.aspx
https://articles.mercola.com/sites/articles/archive/2021/01/09/uk-vitamin-d-and-coronavirus.aspx
https://articles.mercola.com/sites/articles/archive/2021/02/22/vitamin-d3-for-coronavirus.aspx
Be very weary and extremely suspicious whenever any individuals, organisations or governments attempt to direct you AWAY from taking control of and managing your own health with products and solutions that have a proven track record of effectiveness.
The huge benefits of sunlight/vitamin d have been recorded throughout history, yet now all of a sudden the UK government and the FDA are dismissing the huge piles of data in favour of an experimental killshot potion? Sounds like a blatant hidden agenda to me.
Most viruses mutate rapidly, this is one of the main reasons why creating vaccines for them is nigh on useless, as soon as the vaccine is manufactured that virus would've already mutated into something brand new thousands of times over, this is why vaccines are typically reserved to deal with diseases. Ever wonder why those who take the flu shot have to do so every year? That's right, mutations, the flu being a virus doesn't remain the same like your typical disease.
Remember, on the 19th March 2020 the UK government already downgraded the threat of Coronavirus from a High Consequence Infectious Disease(HCID)(under which viruses are also listed), this is how you know that for the past year the mainstream media has engaged in nothing short of fear-mongering as well as trying to lead the public down a path for a vaccine that they don't need at all:
https://www.gov.uk/guidance/high-consequence-infectious-diseases-hcid
Don't ever forget that blacks are the first targets for this bioweapon, however unfortunately for Bill Gates and his Eugenics cronies, blacks and other non white groups currently are the lowest up takers of this sorcery(for so many valid reasons), hence why they've released so many propaganda ads featuring old dinosaur BAME lackies and flunkies who have made the decision to sell themselves down the river for 10 pieces of silver and a piece of mouldy bread:
You can lead the horse to water but you can't make it drink, all I can say at this stage is don't end up like DMX, Marvin Hagler, Hank Aaron, Midwin Charles and the thousands upon thousands of other individuals around the world who have died as a result of taking this experimental poison.
Because celebrities and other famous people have major influence, pull and weight, any of them who take the vaccine and die, we can pretty much guarantee that the mainstream media will try their utmost to divert attention away from the vaccine as the cause.
Now you understand why governments want people who already have pre-existing conditions to get jabbed, that way they can conveniently place the blame on anyone of those pre-existing conditions when they croak it.
On the other hand, you can trust the government at your own peril, however don't say you weren't warned when calamity and death befalls you. Black folks especially should know better than to trust the government taking into consideration their horrific history with it. I'm NOT a fan of hers at all but Wendy Williams is right, DON'T TRUST IT. #RIPDMX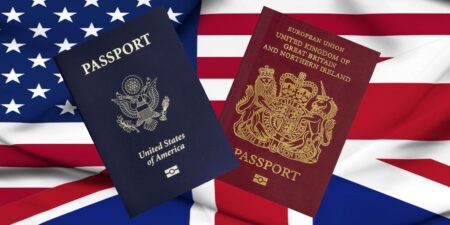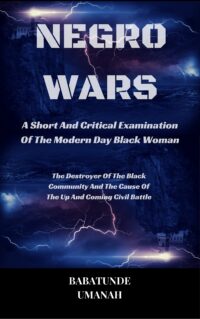 The Deprogramming and Decontamination Process Continues
You Cannot Make Deals With The Devil And Come Out On Top
Most High Bless