Evidence:
It amazes me how these weave/wig, fake eyelashes, fake nails, heavy makeup wearing black harriets who are constantly bragging about being "strong and independent" can so quickly be move out of that supposed frame of strength by a guy wearing a ghillie suit.
I've been watching a lot of these bushman pranks lately and no matter where the location, the reactions from women are all the same. If women can be rumbled and shook so easily for a few seconds, can you imagine how broken, disoriented and lost they'd be during an economic collapse?
Just thought I would bring this forward to add more evidence to the fact that the "strong woman" trope as I've been stating for the longest is a crock of nonsense. Of course you don't have to take my word for it, look up "bushman pranks" on YouTube and observe the universal reaction from women for yourselves.
Western women are in serious trouble, most don't have a clue what's coming down the pike for them especially since their beloved religion of feminism has declared their usefulness as having come to an end.
In case Western women haven't noticed, they no longer have any privacy rights nor protection, oh well, that's their problem, not mine. Meanwhile in other news: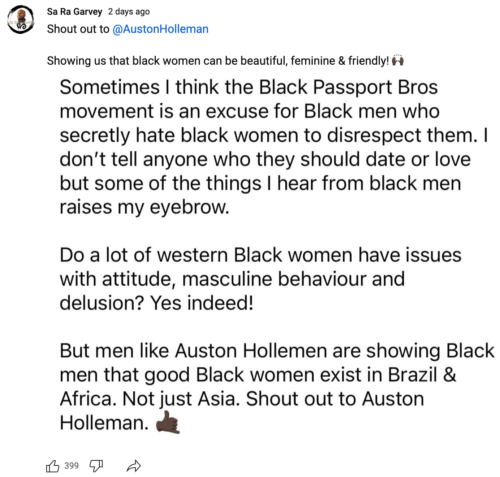 My question is this, in view of the modern day black female's atrocious track record of treachery and betrayal over the past 60 plus years alone against her own male counterparts, how is such hatred and resentment towards black women from black men NOT justified, I'll wait?
Additionally, it should be pointed out once again that Auston Holleman was demonised and ran out of Brazil by none other than a feminist black female, a black witch who for obvious reasons has had no problems with Shea Whitey rolling into her country and engaging in acts much worse than calling Brazilian women "easy".
Watch out for blue pilled simp Negroes out here attempting to minimalise the irreparable damage black women have brought upon their own people.
Also, it's all well and good talking about African women being a quality alternative to the black female in the West, however in case you haven't noticed, large swaths of women from Africa are following and getting their marching orders from black women in the US, here is an example of this:
Take note of the weave/wig, fake eyelashes, thick makeup, nose ring as well as the declaration of what will interest her, money.
As I've mentioned many times before, you have to be very selective when choosing a woman from Africa, if she's not from a north African country then the only other area I would recommend would be the Horn primarily because many of those women are mixed.
Below is an example of US black females bringing their degenerate trash to the country of Ghana, I'm sure you guys have already come across this video. They claim they were twerking at Elmina Castle's slave dungeon "for the ancestors", you cannot make this garbage up: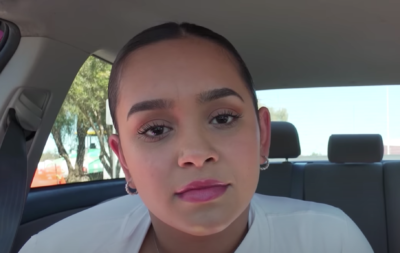 Anywhere this black female goes she always has to engage in some form of dumb foolishness, yet black men who rightfully call out this behaviour as unacceptable are labelled as the bad guys, really? There is nothing to like and everything to hate about this type of behaviour.
In 2023 any hatred targeted towards black women no matter how big or small is completely justified, sexually suspect simps like Sa Ra Garvey are acting as if swaths of black men just began resenting black women out of nowhere, come on dog, isn't this the same KCS(Kansas City Shuffle) the black female herself uses?
Just like MadBusDriver stated in his latest livestream, until black men as a collective practice SYSBM™, the modern day black female will NEVER change. Most black men unfortunately point blank refuse to accept this and will continue to wait in hopes that their "unicorn" will one day descend from the heavens.
In other news, this video below is an example of black American female exported dysfunction:
Notice how like the black siren, these Middle Eastern women have no problems fighting while holding their children. This is why the modern day black female has become a curse and a pestilence on the planet, before the internet and social media women from other cultures would've heavily frowned upon such behaviour, not anymore.
Finally, here is a clip I pulled from MBD's latest livestream where he talks about the risks associated with dealing with black women from Africa and how many of these internet famous rabble rousers instructing black men to go to Africa in order to find a woman wouldn't do so themselves:
Another Open Mic is here fellas, what's cracking for this week gents? You've got the floor, enjoy!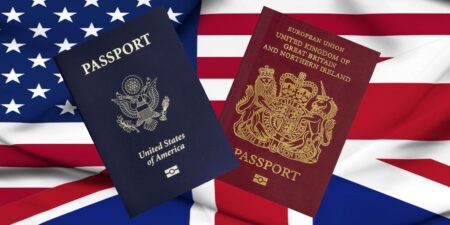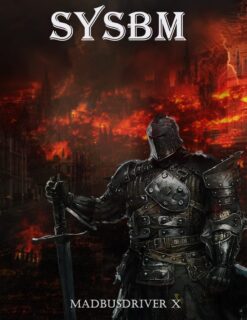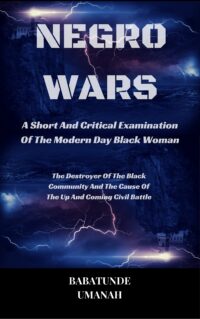 The Deprogramming And Decontamination Process Continues
Stay Individual
Most High Bless