Evidence: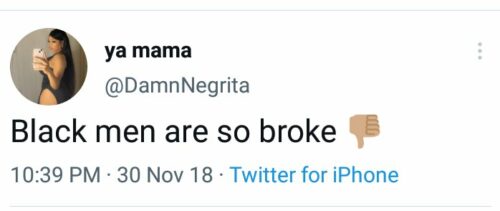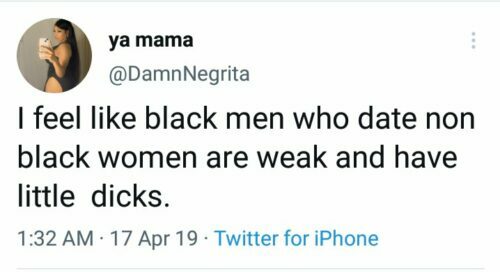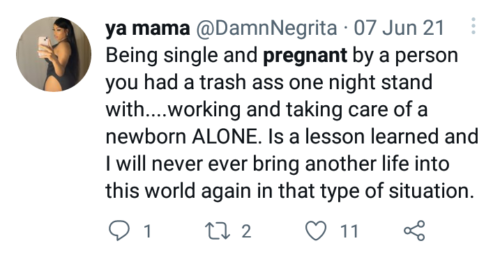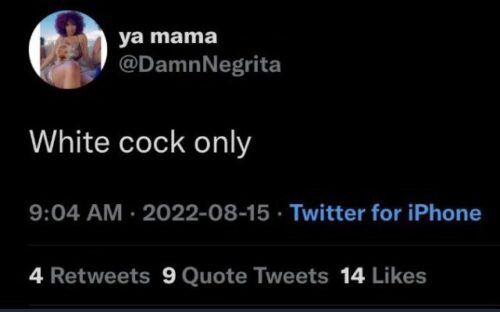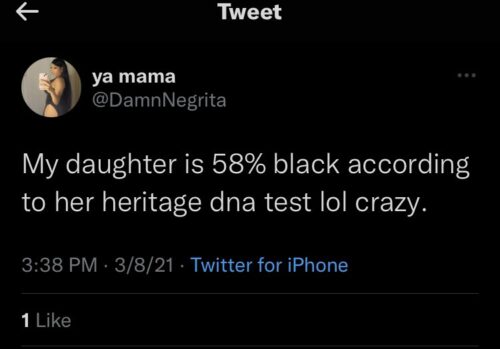 https://twitter.com/DamnNegrita/
Why are you complaining, isn't this what most of these black heifers keep on talking about and are working towards, wanting a light skinned/mixed race child with the good hair, the pretty blue/green/hazel eyes and the light skin? I'm personally not buying her story about getting pregnant by accident, I think there's a strong possibility that she planned the entire event.
What, we already know that black women as a collective are professionals at deliberately getting knocked up by the wrong kinds of men, this is why I find her "accidental" pregnancy extremely difficult to believe. I wonder if she'll be putting Lord Slush on child support, somehow I very much doubt it as she wouldn't want to upset her white lord and saviour.
Do you see how white men who are footloose and fancy free get a clean pass from these black females, yet they'll call out black men all day on engaging in the same practice. She got knocked up by a Bottom Shelf Brad type white man, he rolled in, unloaded his deposit into her contaminated snatch and rolled out.
As I've been stating for the longest while, black women refuse to understand the relationship dynamic between themselves and Lord Freezer, black women are the white man's flunky and sex toy, nothing more, nothing less, this is why the so called "divestment/levelling up/swirling squads are wasting their time believing that white men are going to take them seriously past flings, one night stands and random booty calls.
I knew a black woman from back in the day who also got knocked up by a white guy, she told him she was pregnant with his child and in return he told her to get lost. She just like the woman above thereafter was forced to raise that child by herself but the story doesn't end there. Later on she ended up getting impregnated by a Pookie with a drug problem, Hollywood screen writers seriously couldn't make this stuff up.
You've got your mixed race child, just get on with looking after her instead of posting cringe as well as sexually provocative images on Twitter, smh. In other news:
https://www.tiktok.com/@brinagillx/video/6911085169810230534/
https://www.tiktok.com/@brinagillx/
Here we go again with the foolish and nonsensical "if you're a black man who dates out, don't hate on black women" mantra. As I've explained before, black women don't have the right to determine the reasons any black man who dates out gives in response to being asked why, I seriously don't understand where black women get off believing that they have the authority to control the narrative behind a black man's decision to leave black women and seek out love and companionship elsewhere.
This is as ridiculous as a criminal in the dock believing that he has the right to dictate to the judge and jury what evidence can and cannot be used against him. The bottom line is nobody outside of liberal women are listening to any advice coming from the mouths of black females.
The truth of the matter is in 2022 most black men who date out are doing so because black women have given them an extremely hard time in the past, black women already knowing this don't have a reasonable defence, therefore instead they attempt to intimidate and bully black men who date out into not mentioning them as being a major part of the departure equation.
Save your so called "advice" witch, white women don't need it, besides when it comes down to relationships, despite their various shortcomings, said white women are doing far better than these disgruntled, angry and bitter black sirens hands down.
What did I tell you gentlemen years ago, these black females aren't about to allow you to ride off into the sunset smoothly with your non black female significant other without at least attempting to throw spanners into the works trying to sabotage and destroy what you've got going on, smh.
The common mantra black women put out about not caring about who black men date is all cap, lies and deception because they already know outside of black men nobody else is checking for them. The blue pilled, black male simp is the modern day black female's last bastion of hope and even he can't save her from the wrath to come. #SYSBM™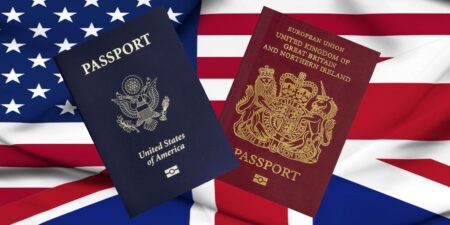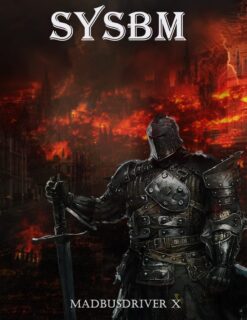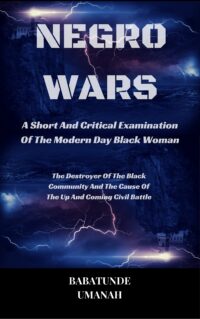 The Deprogramming And Decontamination Process Continues
SYSBM Has These Black Women Out Here Shook
Most High Bless