Evidence: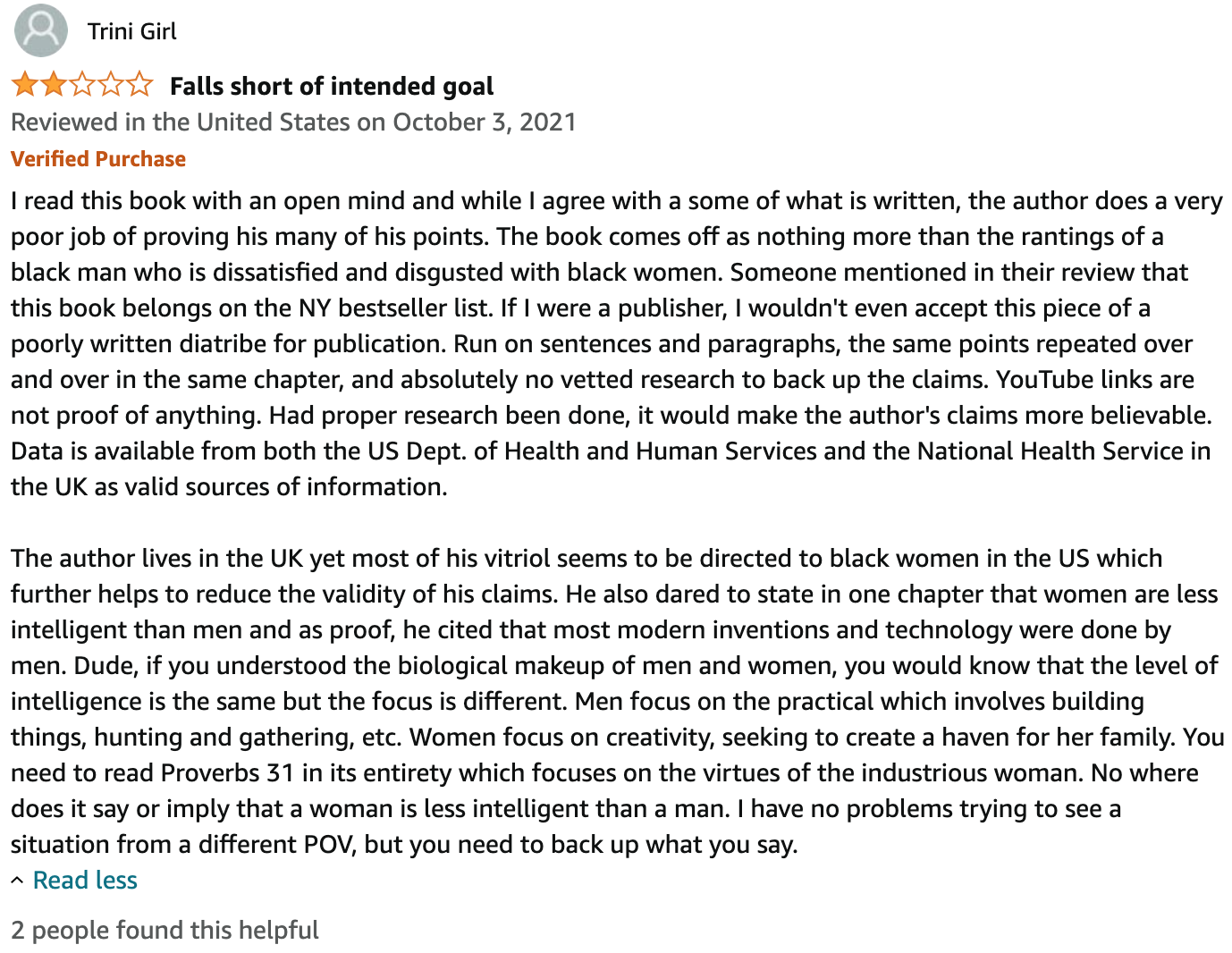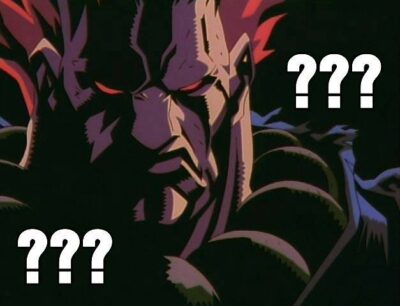 A common misconception about my book Negro Wars is that is should of been written from an academic perspective, however Negro Wars was NEVER meant to be an academic work. The book is a basic but understandable work of literature aimed at laying the foundation from which black men with sense and intelligence can confirm within themselves that what they are seeing take place within black female society is NOT NORMAL, additionally the work is also meant to help free thinking black men understand that they themselves contrary to the ramblings of the black witch contingent have never been the problem.
I find it very comical that outsiders believe that they have the right to determine from what perspective a written piece is coming from, not once have any of my detractors asked me what manner of work Negro Wars was meant to be, however this doesn't surprise me as it is easier to throw stones from a far as well as manufacture their own "convenient" assumptions.
"The book comes off as nothing more than the rantings of a black man who is dissatisfied and disgusted with black women."
Black women as a collective put plainly in their current state are sadly a disgusting group of females to gaze upon, the modern day black female's image and reputation as I've stated many times before have both squarely sunk into the deepest sewer pipe and black women have been the ones who have put themselves there.
Labelling Negro Wars as nothing more than "a rant" makes absolutely no difference to the current in the gutter state of modern day black female society. At this point I would also like to point out the fact that nowhere in Trini Girl's review could she point to anything stated within the book that was NOT TRUE.
"If I were a publisher, I wouldn't even accept this piece of a poorly written diatribe for publication. Run on sentences and paragraphs, the same points repeated over and over in the same chapter, and absolutely no vetted research to back up the claims. YouTube links are not proof of anything."
That's what you're meant to do, repeat things in order to drive the message home, this is a common practice that many people use in order to get a point across. Citing repetitions in the work is NOT deconstructing nor refuting the work. Once again, I wish these detractors would actually point to examples of their gripes instead of simply making broad statements believing them to be true just because "they say so".
You see once again how black women attempt to stipulate what evidence can and cannot be used against them, that's like a criminal believing he can determine what can and cannot be used against him in a court of law under trial, how ridiculous is that?
Once again, YouTube links are not proof of anything based upon what metrics? You'd think the author of this review would've at least given some viable reasons as to why YouTube links could not be submitted as sustainable and valid evidence. The fake academic Aaron Fountain attempted this same "you're using social media" garbage, yet even he fell short of justifying why such a path could not be taken when further questioned.
As I've stated before, black women and their advocates hate social media being used against them simply because the evidence is readily available and they're unable to refute such an abundance of observable data. This is why they'll always try to push you in the direction of statistics, that is until the stats begin flying in their faces as well, smh.
Statistics have their place, however statistics are NOT the be all and end all of evidence, don't ever allow black women and their cronies to run that Texas Two Step on you, don't get caught out. Notice how video evidence is always valid UNTIL black women are brought into the equation, enough said.
"The author lives in the UK yet most of his vitriol seems to be directed to black women in the US which further helps to reduce the validity of his claims."
A reduction in the validity of my claims comes from PROVING ME WRONG ie pointing to something written in the book and then presenting evidence that proves that particular piece of writing to be invalid. Using the "you're not from the United States" argument simply proves that you have no valid refutations to present and are simply clutching at straws attempting to use nationalism as some sort of leverage in your favour, lame. The "you're a foreigner" wizardry won't work over here.
"He also dared to state in one chapter that women are less intelligent than men and as proof, he cited that most modern inventions and technology were done by men. Dude, if you understood the biological makeup of men and women, you would know that the level of intelligence is the same but the focus is different. Men focus on the practical which involves building things, hunting and gathering, etc. Women focus on creativity, seeking to create a haven for her family. You need to read Proverbs 31 in its entirety which focuses on the virtues of the industrious woman. No where does it say or imply that a woman is less intelligent than a man. I have no problems trying to see a situation from a different POV, but you need to back up what you say."
Let's go backwards for a moment, firstly Proverbs 31 is dealing with the qualities of a virtuous woman, something which black women as a collective have fallen well short of and unfortunately in 2022 are much more aligned with the street harlot mentioned in Proverbs 7 who has taken the souls of many men and whose house is on the pathway to Hell.
Additionally, building, creating, hunting, gathering etc are all activities that require a higher level of intelligence. You'll also notice that occupations like STEM, IT, Engineering etc which require much more brain engagement are overwhelmingly dominated by who, that's right, MEN.
I understand that at least in the West we live in a time where it's no longer politically correct to state that men on average are more intelligent than women, however that's just the way it is, the truth is the truth whether you like it or not.
Finally, we can see that women on average(black women in particular) are less intelligent than men based upon their dating, mating and financial decision making. For example, black women will sleep with and get impregnated by the same small group of men they already know are NOT built for long term relationships and fatherhood, where is the intelligence in making such a choice?
Most black women are single mothers, where is the so called "intelligence" in choosing such a path? Women in general, black women in particular tend to accrue more debt. When was the last time you heard a black female talking about a 401K(pension) or outlining a solid and robust financial strategy to secure her future, I'll wait?
This is all too easy, I could go on, however I'll stop right here. When you reside in the truth, you cannot be stopped. Negro Wars the book always was and always will be an instrument of decontamination and deprogramming for the free thinking black man first and foremost. #SYSBM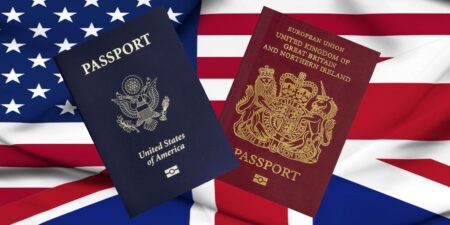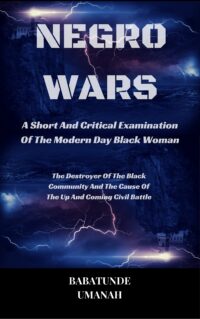 The Deprogramming And Decontamination Process Continues
Still Waiting For A Solid Critique Of Negro Wars, Been Waiting Almost 7 Years
Most High Bless