Evidence: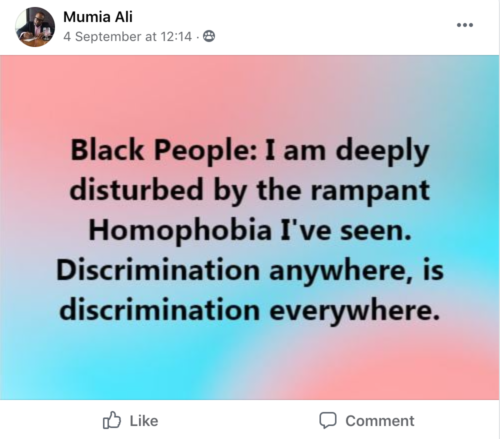 This is an extremely disturbing and sad sight to behold indeed, how the mighty have fallen into the mire, the muck and the filth. Obsidian once upon a time was the tip of the spear calling out black female skullduggery and dysfunction(BFF), he was so effective that when the wide load cruise ship Simone 56 alongside the high priestess of Swirl Mountain, the now divorced Miss Christelyn Karazin drafted up their infamous hit list, Obsidian Radio was at the top of it.
Now, as we all know Obsidian has done a complete 180 telling black men that they need to reconcile, negotiate and horse trade with the same black females who've been warring against them since slavery and possibly before that.
In addition to this sham of a position, the guy has also decided to take a stand for the LGBTQP community(something that was highlighted in Reg The Bad Guy's number 420 Livestream 11 months ago back when the Kevin Samuels sexually suspect "do you have a big dick" eggplant scandal kicked off, Obsidian also stating at the time that the Black Manosphere needed a "queer eye" at its head in order for the black men within it to do better, see mark 2:00:00 onwards).
How exactly is placing a Sodomite at the head of heterosexual black men going to help straight black men do better, I'll wait? I don't know how so many black men can't see the obvious link between Obsidian's open support of the LGBTQP community and the rise of the fruit Kevin Samuels himself.
It seems that there are way too many black men out here who don't have any problems being lead by homosexuals as well as females, they have no desire to return to a patriarchal structure that would once again put them in place as the head.
There is NO profit for any heterosexual man to pledge his support and allegiance to homosexuals, NONE. This is one of the main reasons why the Black Manosphere was so easily co-opted and incorporated by a mystery pastor, because the likes of Oshay and Obsidian were too busy defending Cool Whip Samuels to notice what was going on right underneath their noses.
Additionally, the same Obsidian who is now telling you to support Sodomites and the rest of the LGBTQP clique if you remember once upon a time was heavily advocating for strong black communities which could only come about via strong black families. Homosexuality is diametrically opposed to any family structure yet alone the black one, I'm sure the guy must know this.
Obsidian has shown himself to be an unprincipled buzzard, he is more than willing to sell black masculinity down the river for 2 shekels of silver and a milk toast biscuit because he believes that Kevin Samuels is going to bring him into the promised land flowing with milk and honey.
Once again, to those Kevin Samuels fanboys who claim to be heterosexual, it isn't a good look you being starry eyed and swooning after a man who is clearly homosexual just because he's calling out this modern day black female.
When Samuels finally comes out of the closet(which is exactly what Obsidian is trying to pave the way for with his statement above), a lot of black men in the manosphere are going to look incredibly stupid and suspect in their fervent support, defence and following of Samuels including Obsidian who once claimed to be "the voice of the everyday brother".
Kid Organic is right, the real issue here is Cool Whip attempting to masquerade himself as a heterosexual black man when he clearly isn't. A homosexual man who has an overwhelming majority supporter base that consists of heterosexual black men, what's wrong with this picture Additionally, homosexuals, lesbians and trannies have no problems referring to heterosexuals who advocate on their behalf as "useful idiots".
In dealing with these disjointed black sirens who black men are supposed to "horse trade" with, are these the kind of women that they're supposed to be haggling at the table with: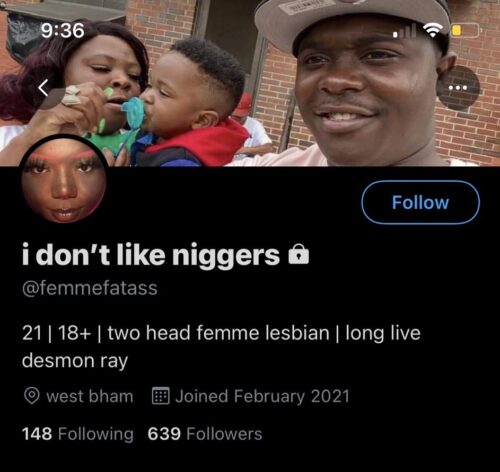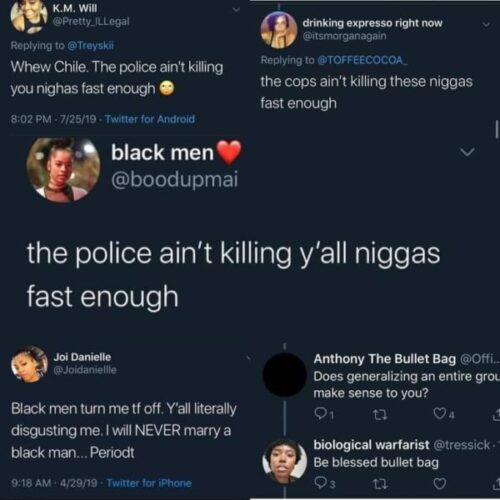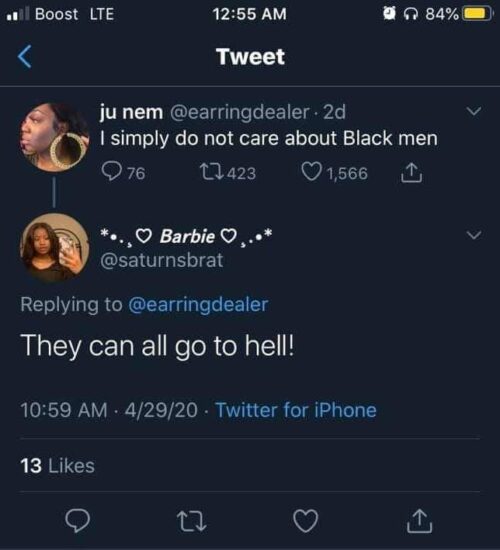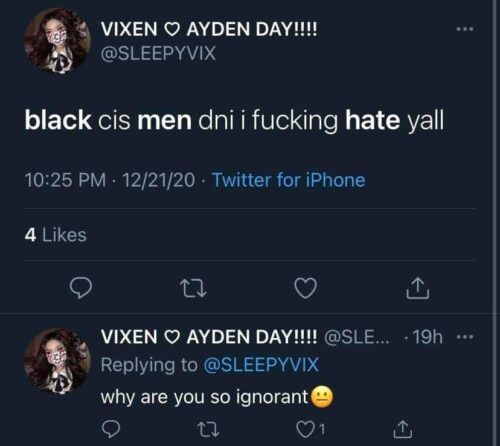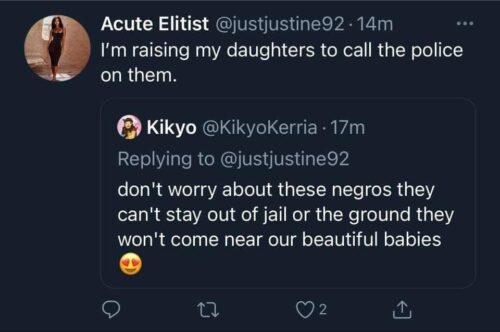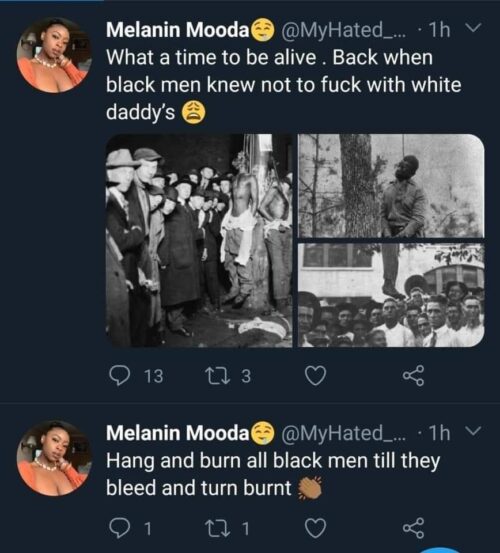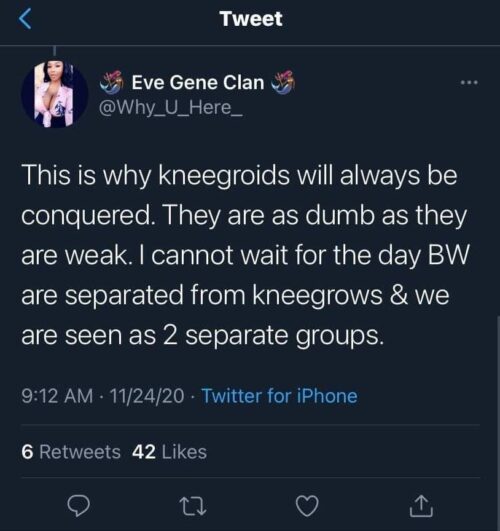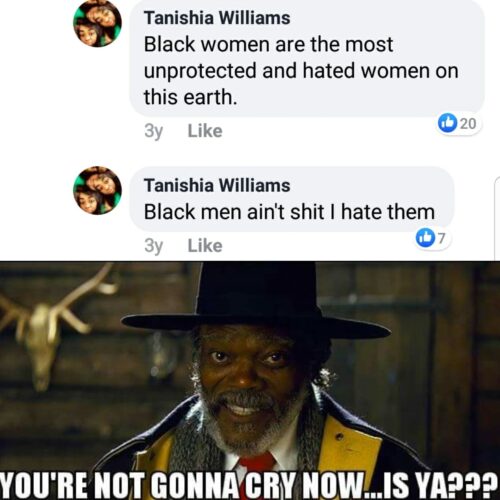 For those black men who still desire to deal with black women, all the best and good luck with "reconciling, negotiating and horse-trading" with them, you're going to need all the help you can muster.
The haughtiness, pride and the arrogance of the disrespectful black female will soon be brought to an end, there will come a point in time where she will literally be on her knees begging black men for help and protection.
These pompous and boastful ramblings you're currently witnessing from black women are merely the calm before an extremely turbulent and violent storm. Meanwhile in other news:
In the long term for those in relatively good health this actually isn't a bad thing because it will force folks to start looking after their own health as they did long before these sellout white coats called doctors who were formally known and labelled as "quacks" came along.
So, let me get this straight, the cardiologist centre is refusing to see a patient because they haven't taken the bioweapon that we already know doesn't protect anybody against the "killer" coronavirus the government claims is out there.
It was always about medical tyranny from the beginning, demonising those who refuse to go along with the draconian program and who can see the Convid hoax for what it really is.
To be honest, observing what this Convid 1984 scam has revealed thus far, do you really want to be around and associated with so many non thinking knuckleheads who blindly trust in the State and that will follow the instructions of doctors and nurses who have quite clearly sold themselves out to big pharma for 3 shekels of silver and a piece of mouldy bread?
A recent article reporting on a study out of Israel shows that those who have been bioweaponed up are 6 to 13 times more likely to be infected with Covid, it turns out that natural immunity is a much more reliable path of protection than these vaccine manufacturers gene altering magic potions(which is what I said from the beginning, you can't successfully develop vaccines for viruses because of their rapid mutation rates):
https://childrenshealthdefense.org/defender/fully-vaccinated-pfizer-more-likely-get-delta-than-natural-immunity/
Remember, the so called Delta variant(formally known as the Indian variant) is simply the cover currently being used to hide and distract from the huge number of infections(blood clots, enlarged hearts, brain issues, all of which the mainstream media without fail always deceptively label as "rare") and deaths being brought about following the introduction of the bioweapon, we aren't stupid over here.
As I've stated before, I'll be relying upon my own immune system thank you very much, these governments and the pharma companies they've conveniently granted prosecution immunity can keep their "jabs". At this point anybody playing an active role in keeping this monumental fraud going who knows better needs to either face a firing squad or the guillotine.
As Bane states in The Dark Knight Rises, "courts will be convened", however not the State's courts filled with these corrupt judges and magistrates who regularly take bribes and who choose to rule in the favour of evil works and those who enforce them while at the same time shunning and scoffing at the good, nope, instead courts ran by the common people will eventually arise and deliver much needed justice. Another Open Mic Wednesday is here, you've got the floor gents, enjoy.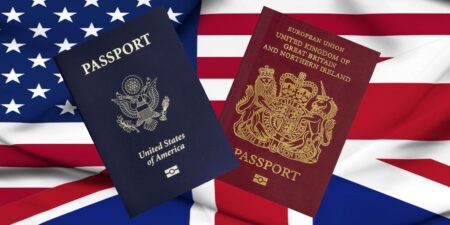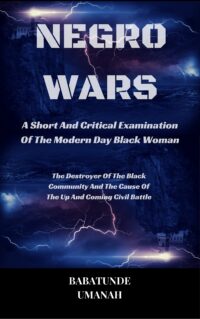 The Deprogramming And Decontamination Process Continues
Stay Individual(In Your Mindset)
Most High Bless