Evidence: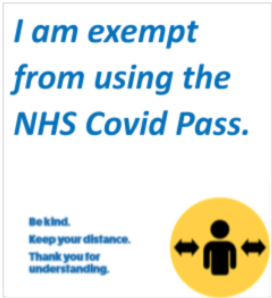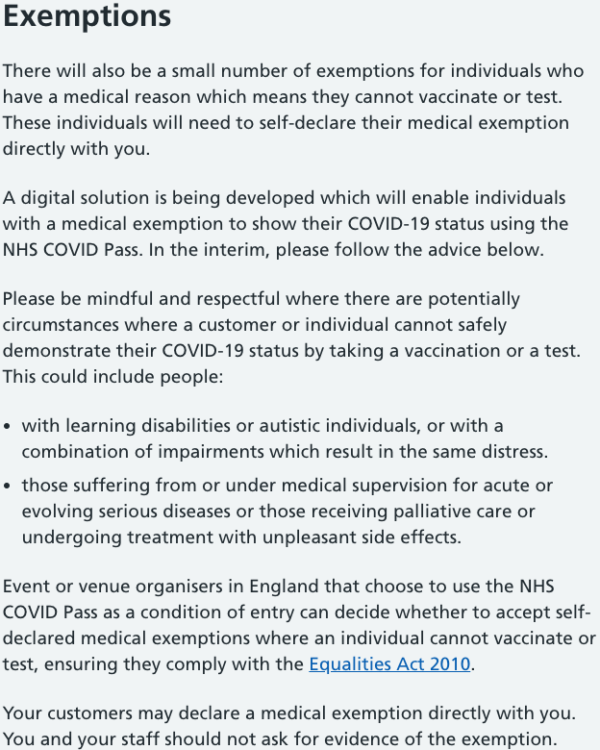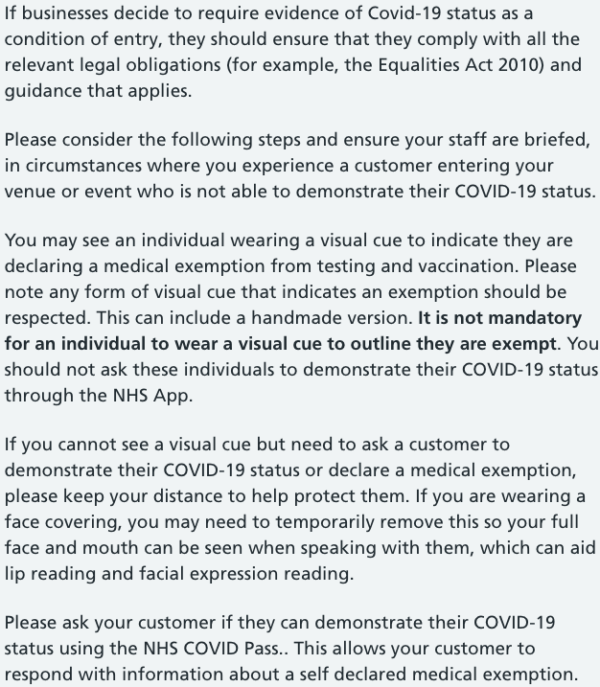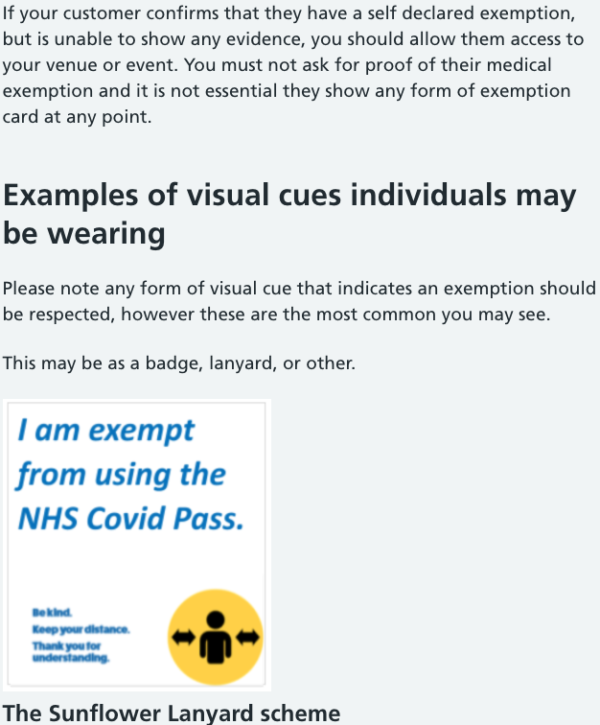 https://www.nhsx.nhs.uk/covid-19-response/using-the-nhs-covid-pass/#exemptions
As a close friend said to me recently, you know this is not a real pandemic because if it were, there wouldn't be any exemptions, everybody would be subjected to the same rules regardless of their health or where they reside on the socioeconomic spectrum.
The information above is for folks living here in the UK. So, as with the face covering exemption guidelines, the exemption guidelines for the Covid Pass are more or less the same. Once again the choice is yours, wear a covid pass exemption badge/lanyard or walk freely and simply declare you're exempt at the door.
The main reason why the UK government continues to create outs is because it knows that with the Covid regulations it has passed under emergency powers, they are in direct violation of many national as well as international laws. By declaring bioweapon mandates the UK government is also in direct violation of the Nuremberg Code(1947) which can be read below:
https://slayingevil.com/?attachment_id=1469
Point number 1 of the Nuremberg Code is already a slam dunk. The UK government as well as other governments around the world who have attempted to bully and intimidate people into taking their experimental potion knowing full well that numerous heavy lawsuits are in the pipeline, they simply wanted to coerce as many people as they could to get jabbed up with their concoction before this happens.
Shame on those individuals who rushed out to get their "jab" believing what they were are still are being told by the mainstream media. At this stage as many other brothers here have stated, with all of the incongruities, anomalies, irregularities and inconsistencies in this Covid narrative, those who can't see the scam by now will never wake up.
The elder generation Brits are particularly a problem, a bunch of selfish savages trying to march the younger generations into the slaughterhouse, they really don't care about the type of society their children will grow up in, this is ultra socialism for you.
As long as these elder tools are OK in their corner and they aren't being negatively affected by anything, as far as they are concerned everybody else especially younger folks can get stuffed. This is why I strongly believe that if there is any rebellion to manifest against these Covid draconian measures, it is going to come from the youth, most of these elders are too far gone.
UK brothers, continue holding your ground, rest assured that many more exemptions from having to take the bioweapon will be announced in the weeks and months ahead, we already have vegans being exempt from any vaccine mandates that come down the pike, watch this space for more.
By the way, I thought folks might find this video interesting, it turns out as was known that it is actually the supposed "vaccinated" who are spreading the so called "coronavirus".
Again, a vaccine by definition is supposed to provide immunity/protection from said virus/disease concerned, if so called "vaccinated" individuals can still catch and transmit Covid, then the jab is NOT a vaccine.
Therefore, those folks who are pro vaccine ought to be asking the important question, exactly what are people being injected with then: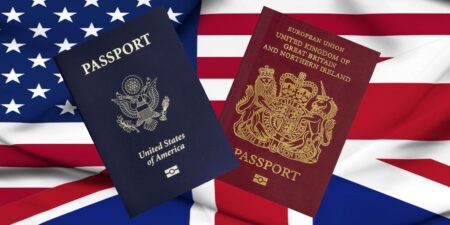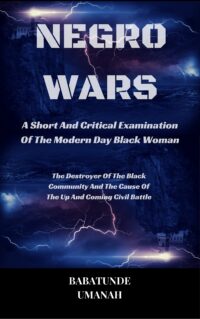 The Deprogramming And Decontamination Process Continues
Stay Individual(In Your Mindset)
Most High Bless