Evidence: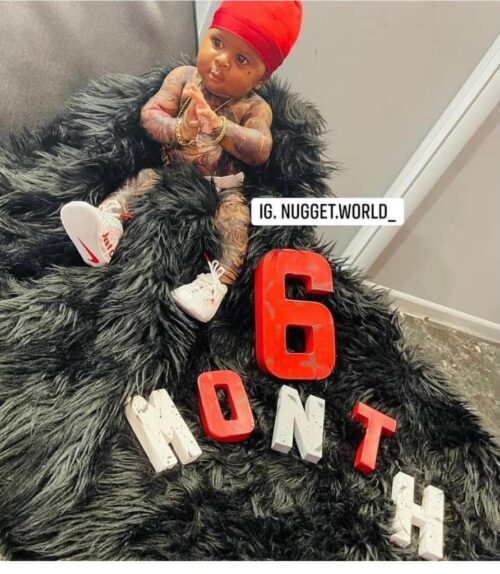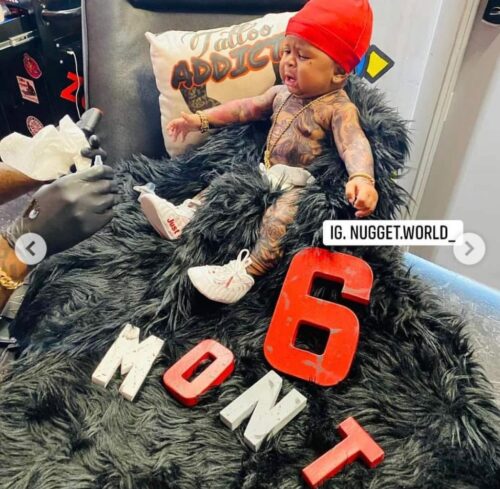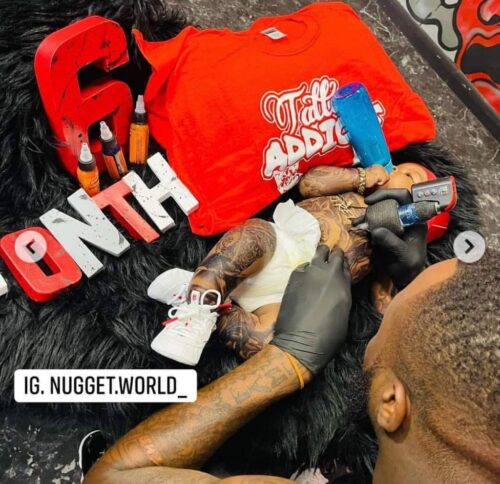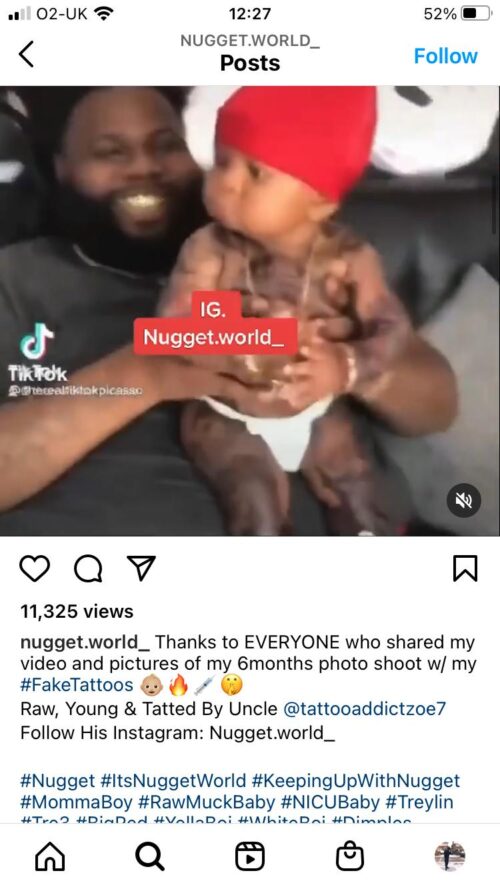 https://www.instagram.com/nugget.world_/
https://www.instagram.com/subwaytatted_/
Of course the black witch having received a serious amount of heat is now coming out and saying that the tattoos on her 6 month old son are fake, it's funny though, the boy looks like he's genuinely in serious discomfort from getting "fake tattoos".
Don't ever ask me to form a coalition with these devil spawn black females, even if we accept that the tattoos she's covered him with are fake, the fact that she would think about undertaking such a project on a 6 month old child equally demonstrates just how deep in the gutter and reprobate her mindset is.
As we've stated before, black women as a group love ruining the lives of their children because they don't want them outshining them and doing better in life than they did, this is why they give their children jacked up names, abuse their children as well as allow others to abuse them.
"Shameka" Morris aka Subway Tatted is your typical mentally disjointed daggle who having lead a cruddy lifestyle herself now wants her son to follow in her same dusty footsteps, quite the contrary to non black female parents who typically push for their children to surpass them and achieve much more in life.
Black women shouldn't be allowed to have children, from killing their children and storing them in freezers to throwing their children off balconies to leaving their children in cars or at home while they "hit the club", their reproductive rights should be removed immediately.
Black women have the most fertile wombs on the planet yet in 2021 it's very hard to come across a black female who doesn't abuse that position. There are scores of non black women who desire to be in the black female's position ie they wish they could have children with the same level of ease.
According to the black women first, black love brigandines, these are the types of women you're supposed to be "negotiating" and "horsetrading" with, these are the women you're to label as "queens", smh. These are the women who Reverend Bargain Bucket aka Shawn James reckons there's "hope" for, these are the feral creatures that the fake academic Aaron Fountain is readily jumping up to defend.
Again, even if the tattoos are supposedly fake, the actual concept of tattooing up a 6 month old child is still one from an incredibly warped and evil mindset. The message continues to remain the same for heterosexual free thinking black men, abandon ship and never look back, get yourself a traditional White, Asian(South or East) or Latina woman and forget about this black female completely.
This is one of the main reasons why SYSBM was created, MBD a far off recognised that in order for himself and other black men of like mind to give their children a fair chance in life, the mother of his and their children needed to be either mixed or non black thus preventing a highly dysfunctional culture from being passed down to the next generation.
Not much more needs to be added, another single black mother strikes again, the pictures and the video do all the talking. As we've stated before, SYSBM is no longer an option, for the heterosexual free thinking brother it must now be considered as mandatory and standard.
#SYSBMFORLIFE
#ABANDONFOREVER
#WALKAWAY
#NOTMYWOMEN
#QUALITYSTARGATESMATTER
#CLEANCULTURESMATTERS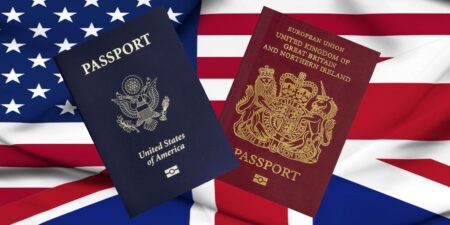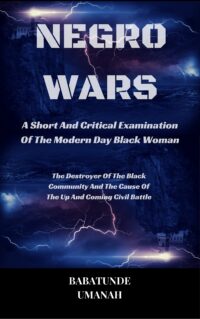 The Deprogramming And Decontamination Process Continues
Quality Stargates Really Do Matter
Most High Bless