Evidence: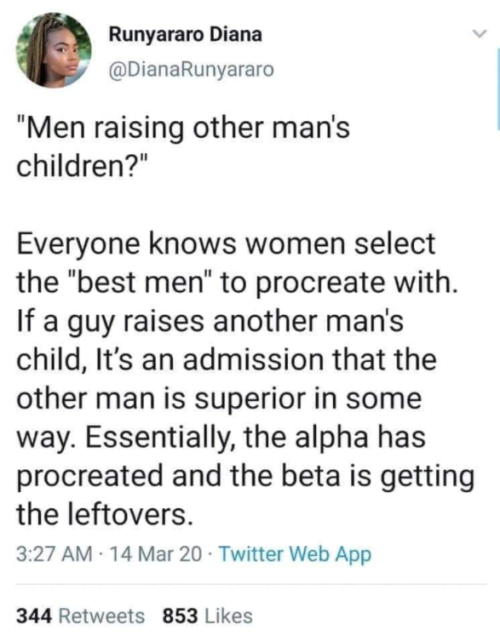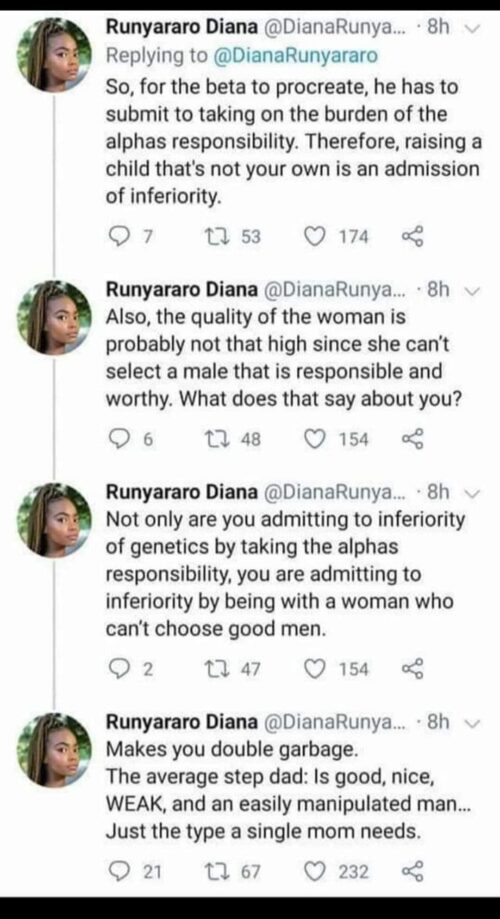 https://twitter.com/DianaRunyararo
SYSBM Tenet Number 19 reads:
19. SYSBM PRACTITIONERS ARE NOT CLEAN UP MEN, we refuse to accept the current decadent and degenerate single mother philosophy being pushed by black women within black society, we will NOT be returning to the so called "community" to clean up anybody's mess ie date and wife up single black mothers. We have high standards, single motherhood and the janky fruits thereof are totally unacceptable. We solidly practice and believe that a man should start his own family tree/legacy from scratch, NOT take onboard the children of another.
See, I don't really like to use the terms "alpha male" and "beta male" because very often they are misplaced and misappropriated by "certain" individuals. For example, as I've mentioned before a black man with his head screwed on straight is viewed as a "beta male" by the black witch contingent as well as the hyper dysfunctional community they're in charge of, however as soon as that same black man chooses to expand upon his dating options, the non black women he comes into contact with will view him as a so called "alpha male".
I believe it was C Boogie Productions(who has now gone full on omega simp) who was the primary culprit behind giving these two terms a wider spread within these black digital spaces after he fell out with Obsidian, however I could be wrong. Unfortunately for C Boogie, when he decided to have a jab at SYSBM, unlike as he did with the Black Manosphere, he couldn't state that we were "woman haters" over here as the Tenets as well as the philosophy clearly instruct black men to choose QUALITY women.
Even Boogie himself had to scratch his head at the fact that those same level headed black men who run into difficulties with black females, are treated very differently as soon as they begin exploring other ethnicities of women. However, there is no mystery behind this phenomenon, we already know that black women as a group are dysfunctional, this is why they much prefer to shun the "educated lames" in favour of opening their legs to, getting impaled and impregnated by Slim Sauce/Two Snacks/Field Mouse type Negroes.
I can't really argue with any of the above tweets, I believe Diana Runyararo hails from Zimbabwe which is very surprising because most black women no matter where they are in the world will typically recommend black men take routes that are a direct compromise to themselves, their masculinity and their manhood(not that anybody yet alone black men should be listening to the cruddy advice coming from black women anyway).
This is NOT a black female plug, I'm simply agreeing with what she's said because we men have been making these same statements for the longest, in fact it wouldn't surprise me if she picked up these valid talking points from a man, a wise one at that.
There are no two ways about it, so called "stepping up" to look after children that don't belong to you is selling yourself extremely short. There is no "step up" when it comes to being a step father, such a move is a blatant step down into a muddy ditch which additionally is helping perpetuate this disjointed idea that looking after another man's seed is a normal practice when it clearly isn't.
No other society promotes being a step father because all other societies and communities are run by men, this black witch however will heavily push this "step up/stepped up" doctrine in her efforts to find a sucker/clean up man to take care of herself and her bastard children she had by a guy that was obviously no good.
Single mothers need to be left to stew, marinate and burn in their own failures, it's NOT your job to bail them out and ease the unfolding negative consequences because of the stupid decisions they made in the past regarding who they chose to sleep with.
Never allow any woman to guilt you into even thinking about looking after children that don't belong to you especially the black female, as commenter Quincy Fitzpatrick continues to say, the aim is to seek out CHILDFREE quality non black women as per SYSBM Tenet Number 3.
Don't be like the long time simp Ebrahim Aseem who I see many years on is still engaging in gale force simping on behalf of these useless black harriets or our long time no see nor hear from resident simp D32018 who just like the rest of these pro black simp drones, in the face of close examination and scrutiny couldn't successfully defend these black heifers either.
As MBD would say, save yourselves black men, be free. #SYSBM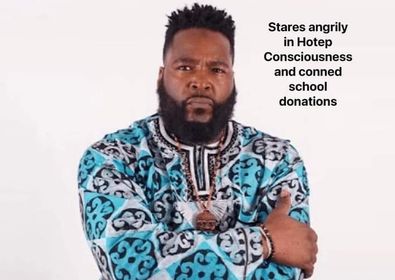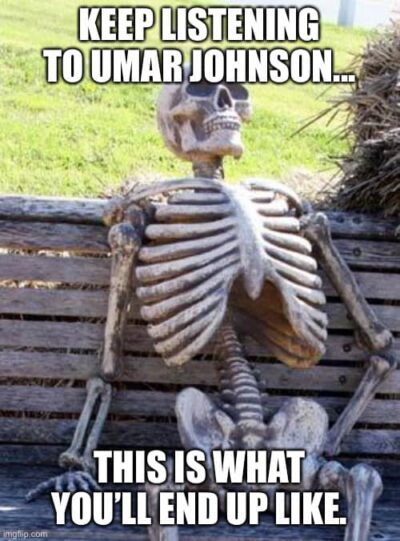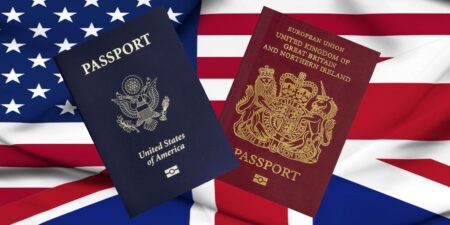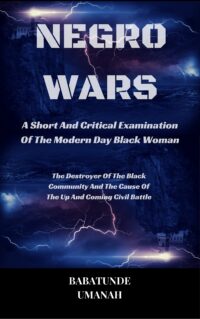 The Deprogramming and Decontamination Program Continues
Say No To Single Mothers
Most High Bless