Evidence: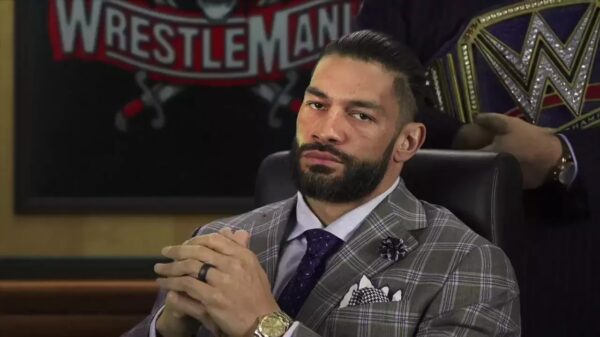 You see how the bread and circus monkey show entertainment squad called The Breakfast Club have summoned this dick policing, coke snorting failure to their studios once again without asking the dude the real pertinent questions that need to be asked?
First and foremost, Gerbilface Johnson needs to educate his black "queanies" on economics because as soon as they get money, the very first thing they do is immediately throw it back into the coffers of the East Asian community just so that they can purchase their lace front weaves, wigs, fake eye lashes, witch's nails and the rest of the vain garbage they love wasting money on.
Remember a few years ago where a guy who owned a beauty supply store called Juns punched a black woman in the face(admittedly, she assaulted him first), as soon as the manager announced a 50% off sale, guess who was lining up outside of the store, that's right, BLACK WOMEN.
Additionally, on the sale day these same black harriets heavily disparaged the black men who were protesting outside of the store on their behalf, here's the video just to refresh your memory, please excuse the background music but you'll see the point is still made:
Now, Gerbilface messy, trash spread all over his front room Johnson goes on to talk about protecting black families, however how can this be done when black women are the most prolific assassins of unborn black children and since 1973 have slaughtered well over 15.5 million black children in the womb as of 2012(the figure now must be well over 20 million)?
http://www.blackgenocide.org/black.html
It's evident that black women don't want black children, they want mixed offspring which is why they launched the levelling up/divestment/swirling failure of a movement, this is their pitch towards Major Blizzard in the hopes that he will scoop them up and impregnate them so they can finally have those mixed children with light skin, light eyes and so called "good hair".
Here is an article directly below that was recently brought to my attention by Kirigakure Jones about women in Ghana who are taking pills in order to try to lighten the skin of their unborn children, mind you this is in addition to the skin bleaching epidemic that is raging throughout African countries especially in Nigeria:
https://m.huffingtonpost.co.uk/2018/02/28/wtf-pregnant-women-in-ghana-take-pill-to-lighten-unborn-babies-skins_a_23372951/
https://www.un.org/africarenewal/magazine/april-2019-july-2019/paying-high-price-skin-bleaching
Before Gerbilface Umar Johnson worries about what dating choices black men are embarking upon, he first needs to deal with the severe mental illness that is pervasive across black female society to where black women are deeply ashamed of their own skin colour as well as their heritage. The long and short of it is black women don't want to be black!
Again, as per usual with these frying pan African, red black and green pyramid headed Negroes, as far as they are concerned all the responsibility for change must always be placed upon the shoulders of the black man, in their eyes these black sirens are not to be held accountable for anything(even though they're the ones who have brought about their own destruction). Here is another pro black knucklehead simp telling black women what they want to hear(lies, myths, urban legends and fairytales) instead of what they need to know:
Beautiful, what part? Most black women these days because of the many external appendages they love to use in their efforts trying to look attractive resemble a cross between a mannequin and a tranny. Sorry, your average modern day black female is NOT attractive.
Remember Tyrone Muhammed, the guy who in 2019 put bricks through the windows of a Chinese nail salon in Chicago protesting the harsh way they'd treated a black female some days before, guess what, the next day the store was open and which ethnicity of women were in the store in heavy numbers getting their nails done as if nothing had happened, that's right, BLACK WOMEN(ironically Muhammed was arrested by two black female police officers):
The truth that the merchant of black women Umar coke sniffing Johnson doesn't want to accept is the fact that black women as a collective are finished, these are the same women who proudly engage in all manner of reprobate behaviours but at the same time berate black men of sound mind and character who rightly criticise and refuse to cosign their degeneracy.
The mass SYSBM exodus of black men towards white and other non black women is the black female's fault, she via her own two hands is the one who has flushed her own image and reputation down deep into the sewer. Here are some clear as day examples that more than illustrate just some of the reasons why more black men are choosing to take their chances elsewhere with women of other ethnicities: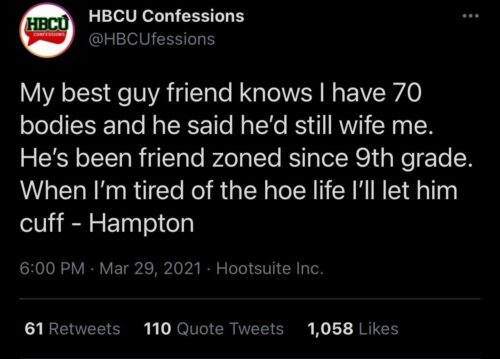 Don't try to present me with defective beyond repair products, I'm not interested. The clown Johnson expects you to form a confederacy with a group of women who aren't even fit for the scrapheap, yet as we've been pointing out here at Slaying Evil for years, the dude himself has yet to cuff one of these black "queens" he so desperately wants black men to get with.
Recently it was brought to my attention by commenter Blue Collar Trevor that there is a growing contention brewing between Kevin "Cool Whip" Samuels and the frying pan African Prince Dr Umar "Gerbilface" Johnson, for those who haven't viewed the clips concerned, please see them in the links below:
https://slayingevil.com/wp-content/uploads/2021/05/Kevin-Samuels-Clip-1.mp4
https://slayingevil.com/wp-content/uploads/2021/05/Kevin-Samuels-Clip-2.mp4
https://slayingevil.com/umar-gerbilface-johnson-responds-to-kevin-samuels/
We have to remember and understand that Samuels and Johnson both have the same end goal, that is to palm off the black witch onto the productive, educated, intelligent, free thinking brothers, however Samuels is different in that he at least recognises that the product(black women) first needs some serious restoration work(not that any difference will be made at this stage for the overwhelming majority of black women).
At the end of the day Umar Johnson needs to keep his mouth shut until:
1. He cuffs a black female.
2. He opens up his Frederick Douglas Marcus Garvey Academy for boys.
3. He deals with the many defections within black female society instead of trying to palm off broken beyond repair women onto free thinking black men.
4. He deals with his drug problem.
5. He tidies up his front room as well as the rest of his property.
Umar Gerbilface Johnson just like Derrick Jaxn is a merchant of black women, both men are no different to your average on the corner church beast pastor who regularly fleeces his majority female congregation for stacks of cash every Saturday and Sunday. Since black women are stupid enough to give these types of guys their money, the folly lies upon themselves.
Additionally, as a man who comes from Africa(though I was born and raised in the UK), African men aren't in Africa going around dick policing other black men on their dating preferences, this defective behaviour is purely from the pro black, slow-tep, red, black and green, pyramid head squads/camps.
African men date and marry whom they please and do so without interference from other African men, this is why I have to look at Johnson sideways every time he attempts to link his dick policing, anti interracial dating doctrine and philosophy to African culture.
At this stage Umar Johnson is beyond a joke, he reminds me of the black witch of Scalp Summit, one Miss Cynthia G, he's completely blown out and doesn't have a chicken leg to stand on, however because of his brainwashed, knucklehead and blinkered followers, unfortunately the foolish notion in his head that he's somehow still relevant remains.
You'd think after his exposed escapades with the Conscious Stripper the dude would've quietly slipped back into the shadows to concentrate on what he needs to concentrate on(cuffing a black queanie and opening up his boys school and cleaning up his house/apartment) knowing that if he puffs out his chest, it can easily be deflated by bringing up these same shortcomings, but no, Gerbilface keeps prattling on recklessly attempting to dick police black men's dating preferences.
Black men simply need to ignore this fool and just do themselves, Johnson is like the annoying fly on the wall that you eventually get to smash with one of your slippers, just like the black female and Derrick Jaxn Gerbilface Johnson has destroyed his own image and reputation and there is nothing he can do at this stage to redeem himself, NOTHING.
SYSBM, be free black men, never compromise your standards nor allow low brow mulletheads like Johnson to intimidate and bully you into "keeping it real" knowing full well that high quality black women in 2021 are extremely few and far between and the condition of black women as a whole is currently deep in the toilet bowl with no hopes of redemption.
There is no so called "snow bunny crisis", the real issue here is the fact that there is a serious dearth of quality black women, this is the true epidemic that these pro black flunkies such as Dr Umar Johnson don't want to acknowledge and deal with.
Sorry, there is no hope nor no change for the Negro female. She is the number one enemy of the black man(even though most black men can't accept this) and as I've stated in my book Negro Wars, nothing in the so called black community will ever be rectified until she is heavily chastened and brought back into line.
To be honest, in view of the huge amount of death, destruction, mayhem, chaos, pain, misery, suffering, bloodshed, distrust, dishonour and degeneracy black women have brought upon their own community, even if they were to magically change their ways for the better overnight, in light of their already lengthy abysmal track record, only a braindead fool would be stupid enough to trust and accept them back into the fold. #SYSBM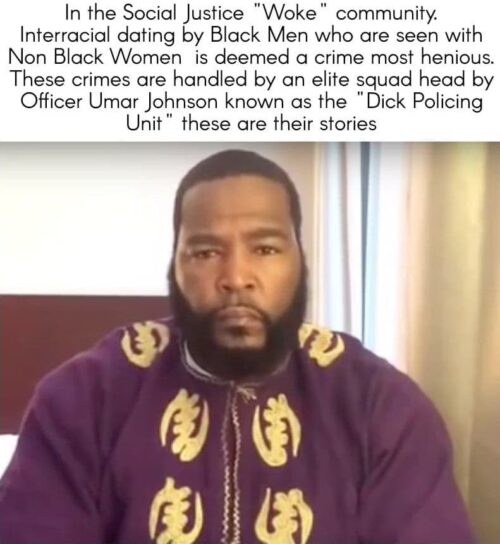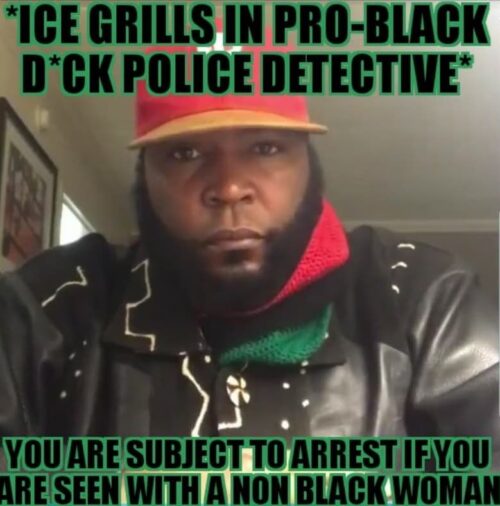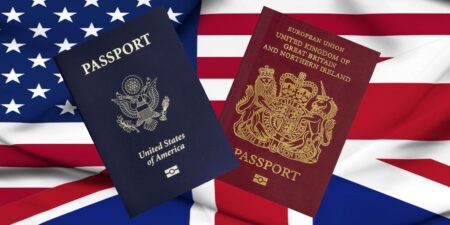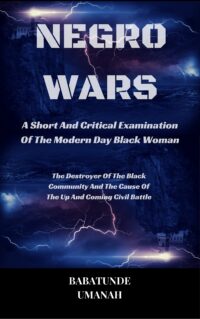 The Deprogramming And Decontamination Process Continues
Gerbilface Johnson Needs To Take 30 Seats Before Speaking Again On Black Men's Dating Preferences
Most High Bless