On the 7th January 2021 around a week and a bit after launching the new website I received this pending comment.
Evidence:
First and foremost dickhead, I'm not a nigger, save that gutter talk for yourself as well as the rat scallion knuckleheads you hang around with. Additionally, I believe I have a fair idea as to why my website was suspended(which WON'T HAPPEN AGAIN), as I stated before WordPress.com being the leftist commies that they are have decided to "clean house" so to speak of any websites that do not conform to the leftist, ultra socialist, marxist, communist mantra.
Commenter Kameron Brown last December alerted me to an article in which a very popular website called The Conservative Treehouse was told by WordPress.com to pack their bags and leave for another venue, here is the link to that article as well as another link to an update on their situation:
https://theconservativetreehouse.com/2020/11/15/the-treehouse-is-deplatformed/
https://theconservativetreehouse.com/2020/11/16/update-from-wordpress-automattic-on-treehouse-deplatforming/
At least The Conservative Treehouse received much more of an explanation than I did, additionally they were granted a small period of time in which they could migrate their site, I wasn't: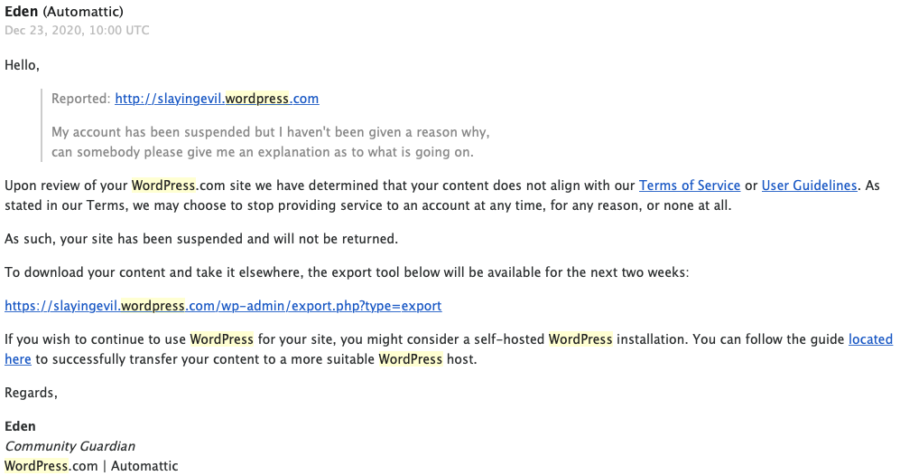 WordPress.com unfortunately has become just like Facebook and YouTube with their deployment of "community guardians" aka censorship gestapo agents who literally go around zapping websites that refuse to lick the muddy boots of the gynocracy, in the case of Slaying Evil the modern day black female and her pro black simp flunkettes.
On the flip side there is a strong possibility Slaying Evil was terminated because myself as well as many other brothers here exposed the entire Covid scamdemic for what it really is as well as the open, brazen and blatant fraud that took place in the 2020 US Presidential Election.
As I've stated before, it could have been solely WordPress.com themselves or a combination of them as well as other people involved in the shutdown, either way they haven't wounded me at all. These E gangsters are a laughingstock, this mysterious individual is acting as if he/she has the inside scoop as to why Slaying Evil was taken down but isn't that always the case with empty headed rabble rousing trash?
Your carcass doesn't have the foggiest as to why I was taken down either, you've just decided to jump on the moment and act as if you have some sort of knowledge as well as power over me(YOU DON'T HAVE EITHER). This is exactly what happens when black men engage in free thought, refuse to accept "official narratives" on issues that look suspicious and also choose to expose these dysfunctional black sirens instead of taking the most common route of worshipping and exalting them.
The fact of the matter is this mysterious UK punk(who I believe I blocked a while back) knows I'm a dangerous individual because I can write for days on end exposing these black sirens, their simp drone followers as well as those who subscribe to the feminist, socialist, ultra liberal mindset. What are you going to do next flunky, offer me clairvoyant services charging me a ridiculously high fee to tell me what you "reckon" the reasons are behind Slaying evil being suspended, offer to read my palm and tell me my "future"? You're not intimidating at all sunshine, find somebody else you believe you can E bully, that won't work over here, you're not special.
As I've stated before, there is only one way to shut down SlayingEvil.com permanently, that is to persuade black women to discard of their janky behaviour and change their ways for the better, however we already know that is NEVER GOING TO HAPPEN. Black women will continue to supply me with the ammunition that I'll happily carry on using against them and there isn't a damn thing this hiding in the shadows bootlicker or anybody else can do to change that.
SYSBM will not be silenced either, it will continue to grow much to the disgruntlement of miserable black women and sexually suspect pro black female black men who just can't seem to keep their noses out of where other black men are choosing to place their family jewels. Let the haters continue to hate, I still cannot and will not be stopped. Like I said before, black women are the primary culprits who fuel this website and will continue to because they simply can't do any better for themselves, oh well, that's their problem, not mine:
#SYSBM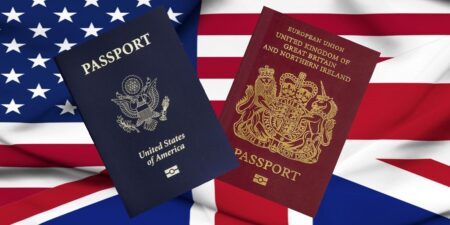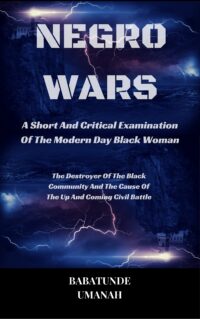 The Deprogramming And Decontamination Process Continues
Verbs And Slaying Evil Are Unstoppable
Most High Bless